"I've been managing AD Plants for some years now, but I've never seen all these methods
explained, nor anywhere close to being laid out in such a way before. It positively forces us plant
owners and managers to hunt down higher yields. Plus, there are so many ways to do this here
that there absolutely must be something for everyone in this report."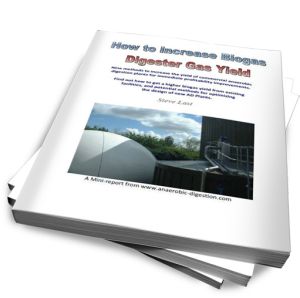 Dear Friend,
Forgive my bluntness, but the fact that you're on this page now tells me that you have a strong desire to improve the income from your Biogas Plant and you WANT to improve it fast.
I don't want to waste your time and bore you with a long sales letter. Let's get down to the point shall we?
I KNOW how to solve your problem of biogas yields which are below your expectations, and help you raise those to comparable with the best in the industry because I was in your position before.
I was very frustrated back then as I could not find a PRACTICAL and FEASIBLE solution to solve my wish for a better yield from my biogas plant investment.
I searched everywhere and I got really fed up.
Why? Because information on how to solve biogas yield problems were scattered here and there. How does digging through thousands of blogs and hundreds of forums sound?
Arghhhh!
But my efforts did not go down in vain because I found that some of these methods actually worked, when I investigated them. After many hours and efforts were spent on researching these methods, and after 23 years as a waste processes design engineer I know which methods WORK and which ones don't work.
So I decided to piece together the methods that WORK into ONE single location so that folks like me (and such as yourself) who have a biogas yield below parr can really solve it once and for all, without having to sift through all the garbage which is around these days (thousands of blogs and forums) just to know which methods work.
After the piecing together of my findings was complete, the result is:
My Power Packed Short Report:
"How to Increase Biogas Digester Gas Yield"
Worth £64.99
Inside the "How to Increase Biogas Digester Gas Yield" report which is provided as an eBook in .pdf (Acrobat file) format for immediate downloading, you'll discover and learn PROVEN methods that work:
Giving large and sustained biogas yield improvements
In most cases with improved process stability
Very low and sometimes even zero additional investment in process plant equipment
One newly developed method can even be completed on live plants, as a "hot fix" without disrupting the digester
All adding up to REAL and LONG TERM improved profits from your AD Plant
For those with recently completed AD Plant yet to pay-back on loans, with this will also come PEACE OF MIND knowing that the financial risk of committing to an AD Plant project will pay-off and benefit you business, and quite likely a lot sooner than you thought possible
For those whose AD Plant has already paid them back, these methods will bring pure additional profit into their businesses, from these additional gas yields. Who knows, but this could be the ticket to opening up the finance to enlarging an existing AD facility for yet further improving your financial performance!
Your Purchase Is 100% Protected
You have nothing to lose and everything to gain. I'm so confident that "How to Increase Biogas Digester Gas Yield" will solve your AD Plant biogas yield problems that I'm offering a "No-Questions-Asked" 100% Money Back Guarantee. All I ask is you try out "How to Increase Biogas Digester Gas Yield" for 30 days and if you haven't got more gas out of your digester in 30 days, then I don't want your money. Simply contact me at steve@anaerobic-digestion.com and I'll happily refund your purchase in full.
And Then There's More…
Tell you what. If you purchase  "How to Increase Biogas Digester Gas Yield" now, I'll throw in some USEFUL bonuses (that I have personally created, NOT some junk resources). These bonuses truly complement "How to Increase Biogas Digester Gas Yield" so that you can solve you concerns about raising biogas yield, even faster.
Bonus #1
Unique Biogas Yield Calculator Software
Worth £29.99
This is our own software package which comes with full instructions, and includes:
Step by Step "Wizard" type programme steps you through biogas yield calculations effortlessly
No mathematical or biogas digestion/fermentation process chemistry knowledge needed
Calculate the yield ranges you SHOULD be getting from your AD Plant
Quickly run multiple "What if" calculations assuming raised proportions of different calorific value biogas yield feedstocks
Print or "Save" your ideal feedstock material combinations for ruture reference
Develop feedstock strategies based upon a clear understanding of which feedstocks will enhance your plant's yield, for maximized output and profit
Be confident that when considering which AD Plant feed materials to use, you fully understand how their biogas yield characteristics affects your plant's yield.
(Sorry. This software is not suitable for those with an Apple Mac, unless you run a Windows emulator.)
Bonus #2
The Anaerobic-Digestion.com List of Anaerobic Digestion Plant Suppliers
Worth £9.99
Our supplier list is a huge time saver, and normally sells for £9.99 on our "parent" site, providing users with:

The largest list with full names addresses, and email contacts for the industry which is available
More than 80 companies listed
Great value when you consider the value of your time, even at £9.99 but you get it free within this package!
So to Summarize – Here is What You get:
How to Increase Biogas Digester Gas Yield – our report in eBook format – Worth £64.99
Bonus #1 – Unique Biogas Yield Calculator Software – Worth £29.99
Bonus #2 – The Anaerobic-Digestion.com List of Anaerobic Digestion Plant Suppliers – Worth £9.99
Total Value £104.97
The value I'm offering you today for my "How to Increase Biogas Digester Gas Yield"  package along with all the bonuses is really a no-brainer. I should really be charging a minimum of £104.97. But if you purchase today, you only need to come up with less than half of that price – although I'm sure you'd agree that the higher price is still a steal.
So go ahead now by Clicking the Add To Cart button below to start learning how to get higher biogas yields, in under 30 days, if you act immediately:
Special Introductory Offer – Only £47 (GBP)
(US Customers Pay in USD About
$74 – variable according to exchange rate)
One Time Payment – Instant Access!
Instant Download – Even at 2 am
All Major Credit Card, Paypal, and Online Checks Accepted
Order 24 Hours a Day, 7 Days a Week

"It's been one tough time recently making ends meet financially…"
It's been one tough time recently making ends meet financially so I was pleasantly surprised to find an online report aimed at the biogas industry which for once is aimed at a realistic price. I just downloaded and must say that there's a lot here which looks very promising.
– Andy McVitie
Sincerely,
Steve Last
PS. Remember, you're covered by my "No-Questions-Asked" 100% Money Back Guarantee. All the risk is on me, and all the benefits are on you. If it turns out that you don't like "How to Increase Biogas Digester Gas Yield", simply contact me at steve[@]anaerobic-digestion.com and I'll promptly refund you in full.
PPS. Which one is more valuable to you? £47 or getting your biogas yield issues sorted out? I'm sure the answer is the later…
Get a better biogas production rate from your AD Plant and raisie profitability by Clicking the Add To Cart button below you can get started immediately.