Anaerobic Digestion can make biogas from animal droppings. Droppings are very low-tech fuel. "Droppings" are for many people unmentionable. Not suitable for discussion in refined company as seen by many, and yet in AD are used as an energy source to provide the highest-tech of commercial electricity supplies.
Anaerobic digestion is a time-tested technology that offers a significant advancement in how waste is handled and how municipalities achieve their zero-waste goals. The clean, renewable natural gas resulting from this process is a product that is easily incorporated into existing infrastructure by utilities and other natural gas users.
Organic waste is traditionally either incinerated and emitted as an environmental pollutant or left in an already crowded landfill where it rots and releases methane, a harmful greenhouse gas that contributes to climate change.
The use of anaerobic digestion is the smart way to solve these challenges because it is good for the environment and is also good for business.
---
September 2019 Updated Content Follows:
US Investment is Going into Anaerobic Digestion to Achieve Zero-waste, Renewable Energy and Carbon Reduction Goals
Economically Smart and Environmentally Friendly Organic Recycling-to-Energy Solutions
Anaerobic digestion technology diverts organic wastes from landfills and incinerators, producing a true source of renewable natural gas that reduces the reliance on, and use of, fossil fuels.
About Bioenergy DevCoBioenergy Development Company (BDC) is a world leader in the finance, design, construction, engineering, and operation of anaerobic digestion facilities. Through its wholly owned subsidiary BTS Biogas, BDC can insure and guarantee facility performance of its more than 200 facilities worldwide. Anaerobic Digestion is a powerful technology that naturally breaks down organic wastes, typically headed for incineration, crowded landfills, or worst of all, left to pollute local environments and instead turns the waste into renewable natural gas and an organic soil amendment. By seeing challenges as opportunities, BDC uses anaerobic digestion as an environmentally sound means of creating a true source of renewable energy while processing organic wastes and reducing air, water, and soil pollution in local communities.
Based in Howard County, MD, BDC is is currently developing four facilities in the United States.. via www.prnewswire.com
UK Investment in Biogas JLEN Announces the Acquisition of Warren Power
Listed environmental infrastructure fund JLEN announced the acquisition of Warren Power for an initial consideration, including working capital, of £14.8m on Thursday 29 August 2019, subject to additional deferred payments up to £0.8m.
The London-listed firm said Warren Power owns 100% of the equity in Warren Energy, which holds the rights and operational assets that make up the anaerobic digestion (AD) plant.
It said the Warren AD plant is located in Methwold, Norfolk, and was commissioned in December 2015 before becoming operational in March 2016.
The plant has a thermal capacity of around 5MWth, and predominantly produces biomethane to be injected into the national gas grid.
In addition, the plant also has a 0.5MWe CHP engine, and is accredited under the Renewable Heat Incentive and Feed-in-Tariff schemes.
JLEN said the Warren AD plant was acquired from EIS funds managed by Amersham Investment Management, and minority shareholders Future Biogas.
Future Biogas would continue to provide management, operations and maintenance services to the AD plant after the acquisition.
JLEN said itself and Future Biogas had an existing relationship in relation to other AD assets, including the Vulcan, Merlin, Biogas Meden, Egmere and Grange Farm plants, in the company's portfolio.
The acquisition increased the total capacity of renewable energy assets in the JLEN investment portfolio to 286.2MW, and further diversified its portfolio.
It said the acquisition was funded by a draw-down on JLEN's revolving credit facility.
"We are pleased with JLEN's continued investment in the anaerobic digestion sector, with this acquisition of its second AD plant in Norfolk, complementing JLEN's Egmere plant located nearby,"
said chairman Richard Morse.
"We also value this opportunity to conclude a second transaction with Amersham and look forward to working with our partner, Future Biogas, to continue the strong performance of this asset." via www.hl.co.uk
Foresight Group LLP Announces the Acquisition of 2 Large Anaerobic Digestion Plants
10 September 2019: Foresight Group LLP has announced the acquisition of two large scale anaerobic digestion plants ('AD') as part of the sale of Strutt & Parker (Farms) Limited.
The Euston and Bay Farm plants are located in Thetford and Newmarket, UK. In combination, the plants will produce around 95 000 MWh of power per annum, which is the energy equivalent of powering 30 000 homes in the UK. Both plants are fully operational with remaining operating lives of 17 and 18 years respectively. On an annual basis, the portfolio will offset approximately 10 700 t of CO2 compared electricity generated from coal.
Further investment in the sites will capture all of the CO2 which will be suitable for use in drinks manufacture.
Foresight has established a market leading position in AD having previously invested into 35 greenfield and operational AD plants across the UK and Europe. The transaction is a demonstration of Foresight's ongoing appetite to aggregate operational AD assets. This acquisition consolidates Foresight's strong market position in the UK and enables it to continue to export the team's deep sector experience to Europe, Australia, North America and beyond.
Material Change now provides services to 7 AD sites and sources over 250 000 t of waste and grown crop feedstock to the plants and returns 300 000 t of organic matter to land from its composting and AD businesses.
Viridian Proposes New Belfast Anaerobic Digestion Facility
The energy company Viridian has submitted plans to build a large anaerobic digestion facility close to Belfast Harbour.
Anaerobic digesters use organic waste to generate methane gas, which is burned to generate electricity.
There are existing methane engines on the site, powered by gas extracted from a former landfill.
Viridian plan to use food and garden waste as the feedstock for their digesters.
The resulting gas will be will be piped to the three existing methane engines to the east of the site, across an internal access road.
The company says the facility has been designed to generate up to 4.1MW of renewable electricity a year.
That will require up to 99,999 tonnes of feedstock a year.
The development would consist of nine tanks, a biogas holder, weighbridges, waste reception areas and an office building.
It would cover a site of 9 acres on the former landfill at the North Foreshore.
Viridian says it represents an investment of £40m. via www.bbc.com
---
Original Article
As a long-term supporter of the concept of using Anaerobic Digestion as a substantial part of the UK's renewable energy policy, and indeed elsewhere, we have been disappointed until recently, that so few people and organisations have been vocal in support of the large scale use of biogas.
All that seems to be changing, as the consequences of insecure imported power, and the problems with providing consistently, 24 hours a day and 365 days per year, the base supply that a mature renewable energy sector simply must deliver, from all the other renewable energy sources, with the only real exception of hydro-power and biomass combustion.
The best currently are achievable from the likes of wind power and solar, simply isn't good enough, and while their technology experts sort out an efficient and low-cost way to store their energy for when it is really needed. AD is there, tried, proven and tested to meet those base loads.
(Image source: Farm9 Creative Commons)
In this post I have included quotations from several recent news items which show that the Anaerobic digestion devotees are at last getting together to support their technology in the media.
Shale Gas – Not A Good Idea?
The first is shale gas, which its promoters are now seeking to continue to drill for and experiment with. The AD and Biogas Association makes a robust case against its adoption in the following excerpt:
Osborne should forget shale gas – 'biogas is best'
Energy Live News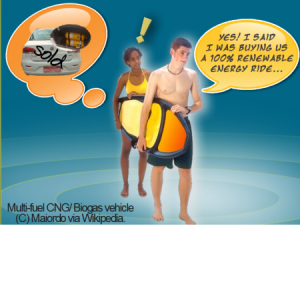 The ADBA suggests biogas from anaerobic digestion (AD), the process which sees scrap food and waste effective fermented to create gas, will significantly boost generation capacity in good time and at relatively low cost, while helping the UK meet …" www.energylivenews.com
Next comes a plea for London to be given an anaerobic digestion plant, which the author of this article thinks has been left-out from the biogas opportunity so far:
London needs Anaerobic Digestion
Green Building Press
"Questions have to be asked as to why not a single Anaerobic Digestion (AD) plant is in operation, or currently in construction in London, despite strong backing from both the previous Mayor of London and the current Mayor, whose revised strategy says …Green Building Press" www.greenbuildingpress.co.uk
We think that in fact an AD Plant has been announced in the planning stage for a biogas plant to be built in the Thames Estuary, but it is not in construction yet. Finally, if you have not yet become aware of exactly what Anaerobic Digestion is all about, we recommend a visit to the following article:
From animal droppings to electricity supply
A LOCAL company is spearheading the development of anaerobic digestion technology, which could provide an answer for companies seeking a climate friendly way to reduce energy costs. Richgro, in partnership with Biogass Renewables, are via www.sciencewa.net.au
---
We are always happy to receive your feedback as comments on this post.