Solving the Climate Change Emergency UK will require urgent action after the new parliament returns. ADBA (the UK's Anaerobic Digestion and Bioresources Association)  has the technology to act quickly on this, so here are ADBA's General Election Manifesto measures which could help the UK achieve Net Zero Emissions.
Whether you agree that the UK is facing a Climate Change Emergency or not, the UK is about to elect a new government in which many politicians support the notion of a climate change emergency in Britain.
That being the case, and to achieve the Net Zero Emissions Targets for both 2030 and 2050, as apparently supported by all main UK parties, now is the time for industry professionals to say what is needed.
ADBA has entered the debate with their "asks" of the politicians in the following press release. Their 4 top requests are important as the period of the next UK parliament will be absolutely crucial to achieving the promised reductions. There is a huge amount to do to comply.
If implemented to its full potential, the AD industry could reduce the UK's total emissions by at least 5% by 2030, fuel 416%  of the UK's bus fleet or 68% of HGVs, and create 60,000 new green jobs.
---
We made a video to explain the ADBA wish list, below. Please watch the video, and return here afterwards scroll down further, and give us your feedback on the video and article:
---
Press Release 12 November 2019:
Anaerobic digestion trade association publishes wish list for General Election manifestos
As the UK prepares for a December General Election, the  (ADBA) has written to national party leaders setting out a list of policies for the new government to embrace.
In her letter, ADBA Chief Executive Charlotte Morton emphasises the need to support the anaerobic digestion (AD) industry in party manifestos and future government policies if the UK is to meet its Net Zero emissions target.
With the right support, the AD industry could deliver its full potential and cut emissions by 5% by 2030.  Crucially, AD can also to contribute to the development of a long-term sustainable circular economy for the UK by treating organic wastes and recycling them into green energy,  natural fertilisers and other valuable bioproducts.
She highlights four areas needing support if the AD industry is to deliver its contribution:
1 – Cross-departmental coordination
The Treasury must keep its new brief to coordinate environmental policy. AD is currently predominantly recognised for its role in generating green energy for electricity, heat and transport, but the low carbon residue from the AD process is also needed for use as an alternative to chemical fertilisers for farming and is central to the future of biorefining.  AD brings benefits across multiple sectors and so policy must be designed and coordinated effectively across Government departments for this sector to fulfil its carbon abatement potential.
2 – Funding for separate food waste collections
Food waste must be collected separately and diverted to AD plants for recycling, so the current commitment to mandatory separate collections for households and businesses must be put into effect as soon as possible, and Local Authorities must be funded to meet set-up and infrastructure development costs. Over the next three years, 70 Local Authorities are due to renew their waste collection contracts and it is crucial that these contracts include separate collection of food waste and treatment through AD.
3 – Policy incentives for anaerobic digestion
The next Government must commit as soon as possible to additional support for AD beyond 2021 as all current support is due to end by this date.  The AD sector urgently needs clarity on future policy incentives to stimulate planning and investment in the additional capacity that is required to efficiently recycle the additional food waste that will be produced once collections come in, and to treat the 90M tons of manures and slurries currently emitting methane and other pollutants.
4 – Research and Innovation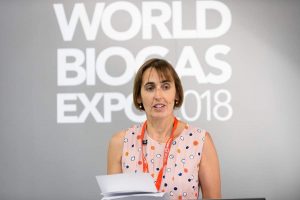 Supporting R&I could help supercharge the AD industry and put it at the cutting edge of biorefining science. ADBA has proposed the setting up of a virtual Centre for Anaerobic Biotechnology and Bioresources Research (CABB) to transform an industry currently perceived mainly as a waste treatment technology into a low cost multi-functional biotechnology. It would also provide a boon to British exports and enhance the sector's performance to eliminate the need for future subsidies.
Commenting on these asks, Charlotte Morton said:
"The next ten years are critical for achieving significant emissions reductions. If we are to meet Net Zero targets, ministers must implement policies that promote the development of this sector as a matter of urgency.  Other renewable industries, such as wind and solar, have enjoyed consistent support and are now extremely cost-effective and established as part of our renewable energy mix. AD and biogas should be given the same fair treatment now so that it can realise its huge potential towards decarbonising the UK economy by 2030."
– PR ENDS –
---
ADBA might also point to the support the government gives to the fossil fuel sector in tax breaks and other benefits, which can no longer be supportable, and which some have said amount to at least £15 billion in untapped tax revenue annually.