As EU Green Lending criteria are increasingly being defined an interesting development is the controversial omission of crop-based biofuels.
This is surprising as it seems to be inconsistent with previous EU Commission policy. All is explained in our republished article from the Energy Census website below:
How Will the Omission of Crop-based Ethanol and Biodiesel from EU List of Sustainable Investments Affect the AD Industry?
EU decisions on what will be considered to be "sustainable biofuels for investment funding purposes" will be important for the EU and UK biogas industry. However, it is hard to see the omission of Crop-based Ethanol and Biodiesel, in a negative way.
Our view is that the use of food crops for the production of renewable fuels is such an emotive subject for the public, that its use is best avoided.
Even where it is done "sustainably" the risk of public hostility being whipped up in opposition to any use of food crops through ill-informed journalism is so great, in our opinion, that its use is best avoided.
Waste only feedstocks are being used very successfully to produce biogas/ biomethane and the inclusion of large percentages of food crops is not a core issue for the industry.
For that reason the author's view is that: "Inconsistent the omission may be, there is some logic at least to this EU commission omission".
It may actually turn out to be a useful decision for the biogas industry. It will avoid any possible detraction from the concept of biogas and biomethane being a product produced from solely waste materials.
By using waste materials alone as digester feed materials would at least remove the risk that the technology will in future be accused of "causing rises in food prices".
---
European Commissioners omit crop-based biofuels from green lending criteria
Biofuels lobbies on Wednesday criticised the European Commission's decision to omit crop-based ethanol and biodiesel from its list of products that can be defined as sustainable investments, saying the decision contradicts other EU laws and had failed to recognise that these renewable fuels are essential to decarbonisation.
The delegated act (updated law) agreed by EU commissioners on Wednesday sets out criteria on which economic activities and products contribute to the climate, and is intended to highlight where green-minded lending should be directed through "taxonomy" rules.
The taxonomy rules are intended to inform a labelling system for sustainable lending that is in line with the EU's 2030 and 2050 climate goals, and will now be discussed with member states and MEPs before becoming law.
But although the updated law (pages 93-94) recognised the role of biofuels as delivering benefits to the climate, it failed to include crop-based biofuels in the category, angering EU-based producers of ethanol from wheat and corn as well as biodiesel produced from rapeseed and soybean.
"The delegated act rightly allows the use of food and feed crops in the manufacture of organic basic chemicals and bioplastics – but offers no justification for the inconsistency of excluding the use of such crops for the production of biofuels,"
the main European ethanol lobby Epure said in a statement.
Besides stating that food and feed crops are not used for the manufacture of biofuels for use in transport, the delegated act stated that greenhouse gas emission savings from the manufacture of biofuels and biogas from advanced feedstocks are at least 65% in relation to the fuels they replace.
"Once again the EU is trying to redefine what should be considered as sustainable biofuels – even after the RED II process clearly distinguished good and bad biofuels and rendered the old 'food vs fuel' debate irrelevant,"
said ePURE's secretary-general Emmanuel Desplechin in a statement.
Epure and other biofuels lobbies said they would continue to seek a reversal of the Commission's exclusion of "food and feed crops" in the delegated act, which they said had contradicted the existing RED II sustainability criteria agreed upon three years ago between co-legislators including MEPs and the European Council, besides the Commission.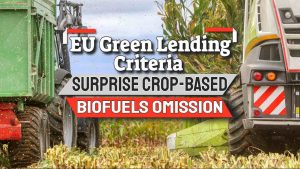 Furthermore, the lobbies said the delegated act has ignored findings on the Commission's own Renewable Energy Progress Report, which Epure and others said had confirmed that ethanol and biodiesel had made a major contribution to reducing carbon emissions without causing adverse environmental impacts or higher food prices.
Producers of biofuels from forest residues will likely be much more heartened by the delegated act, which did include the advanced feedstock among those activities or products as meeting sustainability criteria.
Forest residues are expected to become an increasingly important feedstock for road, aviation and marine biofuels and are deemed sustainable if producers can demonstrate that the use of these wastes complies with biodiversity and sustainability requirements outlined in existing EU law.
Read more at EnergyCensus here.
---
End of Energy Census Article