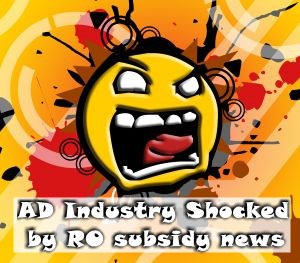 The announced effective cancellation of RO Subsidy for Small Scale Anaerobic Digestion is a huge missed opportunity. in this article we explain why that is. The four excerpts we have included below are from recent news releases from the UK AD and renewable energy industry opinion-formers.
They show the level of shock and disbelief at the government's (2012) announcement of forthcoming consultation on new Renewables Obligation (RO) subsidy bands.
[box type="alert" size="large" style="rounded" border="full"]Spring 2017 – In April 2017 the R.O. subsidy was terminated for all new AD Plants, however, the UK government has not reneged on the R.O. payments previously promised to AD plant operators already in the scheme and their subsidy will continue until the end of their 20 year subsidy payment periods. The information on this page has been retained for historical interest.[/box]
Also, the latest UK Government RO announcements, amounting to cancellation of RO subsidy, conflict with rising expectations on AD Plant subsidies after their announcement on their Feed-in-Tariff (FiT) plans, made just last week.
The proposal that ROCs subsidy will exclude all plants between 50kW and 5MW output level – which is in the range almost all AD Plants projects are planned for – amounts to a virtual scrapping of the RO subsidy for the vast majority of AD projects.
At a stroke the UK government has announced a body blow to the development of potentially thousands of on-farm and community food waste AD plant projects which were otherwise set to proceed with aid of the expected lower RO output limit.
The young, rapidly growing UK anaerobic digestion industry risks being nipped in the bud, and all those innovative new technological developments expected to flow from the scramble for business in the sector, will gather dust. And, all this at a time when the nation so badly needs to develop new energy sources, develop new jobs, and develop products at home to sell on the world market.
This week industry leaders as a whole have been asking for a cabinet reshuffle in order to get the government to focus more on the economy. Here, surely is another example of a lack of economic vision…
As stated alerady, we are not alone in our criticism. We have included below extracts from other news releases and articles from the AD industry, for your further reading:
AD dealt double blo by effective cancellation of RO subsidy
"The anaerobic digestion (AD) industry faces "disaster" after being "squeezed from both sides" by two Government announcements on renewable energy subsidies, the Renewable Energy Association (REA) has warned. REA head of biogas David Collins said …"
http://www.mrw.co.uk/news/ad-dealt-double-blow/8633727.article
Renewables Obligation for Anaerobic Digestion should be maintained …
(author unknown)
"energy and environmental management magazine, the definitive resource for news features and opinions in the energy, environmental management and renewable. This is to all intents and purposes a cancellation of RO Subsidy….www.eaem.co.uk/…/renewables-obligation-anaerobic-digestio…"
http://www.eaem.co.uk/opinions/renewables-obligation-anaerobic-digestion-should-be-maintained
Plans to exclude generators from RO leave industry 'flummoxed'
Business Green
"Alongside new levels of support, Energy and Climate Change Secretary Ed Davey also announced there will be a consultation later this year on excluding solar, wind, anaerobic digestion, and hydro-electric projects between 50kW and 5MW. This would leave …"
http://www.businessgreen.com/bg/news/2194135/plans-to-exclude-generators-from-ro-leaves-industry-flummoxed
ROCs banding review 'a disaster' for AD industry
"However, in a surprise move, DECC also proposed ending ROC support for anaerobic digestion plants under five megawatts from April 1 2013, subject to consultation. The review document states: "The government will shortly consult on proposals to exclude …"
http://www.letsrecycle.com/news/latest-news/energy/rocs-banding-review-2018a-disaster2019-for-ad-industry
To sum up. It really is strange as this move comes without any obvious purposeful policy change. Can the manner in which such matters are handled by government really be going to be done in such a disfunctional manner… Let's hope for some re-thinking in this area during consultation.
If you have a view on this news we would be very pleased to recieve your comments.