"Mega" Tall Digester CSTRs or the claim to "very large tall Continuously Stirred Tank Reactors" (CSTRs) as made by Stallkamp in their Press Release below, may sound a little over-the-top, but it makes a very valid point.  They may well be the first of many new style tall-tanks.
Certainly, as anaerobic digestion technology advances, the quantity of biomass processed will need to increase substantially. But, the space needed for them on the sites of food manufacturers can be expected to be limited, so the only way will be upward!
Tall biogas tanks have been utilised by water utility companies for their sewage sludge biogas plants for some time, but we think this is a genuine first for a food processing company. Read on and find out more:
Press Release, 4 March 2020:
---
Stallkamp builds it's first tall digester CSTRs
In addition to the classic stainless steel tank construction, Stallkamp is now also active in the field of vertical tank construction. Especially for industrial biogas plants the continuously stirred tanks (CST) are of high interest.
Two vertical digesters for production waste
A food manufacturer from northern Germany uses production waste in its own waste and sewage treatment plant in order to exploit the energetic waste in a biogas plant. This way, the company combines economic success with its ambitious ecological goals. Now, the expansion of the biogas plant became necessary. The decision was made in favour of two vertical digesters made of high-quality stainless steel – designed, manufactured and assembled by Stallkamp from Dinklage, Germany.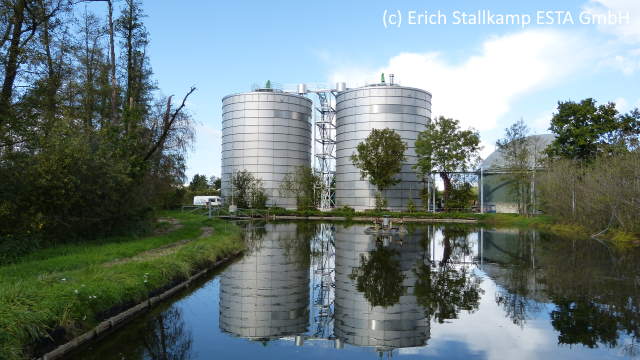 Construction of the continuous stirred tanks
The two identical tanks have a diameter of 15 m and a height of almost 20 m, each having a capacity of 3,300 m³. The construction of the stainless steel digesters was carried out in a segment like design.
For this purpose, individual shell plates with thickness of 3 to 6 mm were rolled to diameter. These were screwed and sealed to form large rings at the construction site. The first fully assembled ring was lifted with electrical lifting supports specially developed for this project.
This was followed by the assembly of the next ring, which was again lifted by the 30 synchronously running lifting supports. When lifting the tank for the last ring, more than 40 tons were weighing on the lifting supports, which lifted the weight evenly and safely.
"We knew from multiple tests that the concept would work. Nevertheless, the calm and even lifting of the structure was a special moment,"
reports Erich Stallkamp (managing partner), who followed the construction progress daily.
Stainless steel – the optimal material
In order to minimise corrosion in the anaerobic fermentation process, the plant operator consistently uses stainless steel for the new digesters – in its highest quality.
All side parts as well as the 4 mm thick stainless steel bottom are made of duplex sheets. The material 1.4462 has a particularly high yield strength as well as a very high corrosion resistance and is therefore particularly suitable for use in the biogas plant.
The roof is also made of stainless steel: stable rafters supported by an inner and an outer ring form the basic structure.
An inner and an outer stainless steel skin are attached to it. In the middle of the roof there is an opening for the central mixer. It constantly mixes and homogenises the fermentation mixture and thus ensures optimum process biology. 
Another three vertical digesters are under construction
At the moment, three further vertical digesters for a mega biogas plant are under construction in Denmark.
For Stallkamp, the vertical digesters are an important step, as they are the highest tanks of this type ever produced by Stallkamp.
"We are pleased with the successful completion of the project and showed that we can play along on this scale,"
agree Christoph Heseding (Managing Director) and Patrick Wienken (Head of the Technical Office Tank Construction).
Stallkamp Busy in Biogas Tank Construction Activity
A total of 14 tanks are currently being built to treat up to 600,000 tonnes of biomass per year.
Three of these are vertical digesters with a height of 20 m and a diameter of 23 m. This should seal the entry into the construction of vertical digesters. Further information is available at www.stallkamp.de/en.
---
Meet Stallkamp at their IFAT Stand
Stallkamp will be exhibiting at IFAT, the world's leading trade fair for water, sewage, waste and raw in Hall A1, Booth 208. The focus will be on the stainless steel tanks and their various application in biogas plants, waste water treatment plants, industrial reactors and many more. Besides, Stallkamp will also present its mixing solutions, pumps and separators.
---
Erich Stallkamp ESTA GmbH – as specialist for the construction, production and assembly of high-quality stainless steel products such as tanks, pumps, agitators and separators is Stallkamp the capable partner for agriculture, biogas industry and sewage industry. The wide range of products has been used successfully worldwide for 45 years.