Biogas plant mixing when "done right" will raise the gas yield per unit of biowaste feed. But, not only that, the result can simultaneously be a reduction in mixing energy requirements. It all works to help raise biogas plant profitability, especially when we are told that energy costs for mixing can be halved. This is possible, say Landia, if AD plant operators fit their proprietory GasMix equipment.
Read on to find out more:
---
Sponsored Post originally published on 28 Jan 2017:
Raising Biogas Plant Efficiency: 2016 was the Year of Massive Mixing Energy Reductions with Reactor Mixing Energy Savings of 50% Claimed for Retrofitted Landia GasMix Units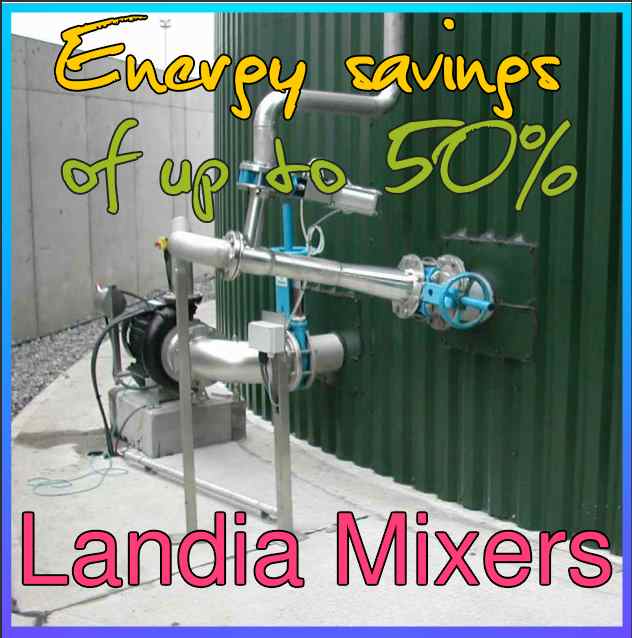 Landia is the company that quietly upped the game for the efficiency of biogas reactor mixing in 2016.
Landia has demonstrated how those fortunate plant operators that have adopted the Landia GasMix system are quietly pocketing the income for the AD plant operations and will continue to do so for the lives of their plants.
2016 was a year for many technological advances in anaerobic digestion, and in this blog, we have spoken of the awesome increases in biomethane production in the UK. However, of equal importance, but receiving far less publicity is the progress being made in the UK AD industry reducing sacrificed anaerobic digestion bioreactor loads and energy, which otherwise could be sold. Every single kilowatt-hour (kW hr) expended on sacrificial energy loads running any AD plant, can be pure income toward the AD company's bottom line.
Now that there are about a hundred more AD plants operating in the UK than there were 1 year ago, equipment manufacturers have an added incentive to devise and market AD plant energy-saving technologies, and one company that has now been doing that for over 5 years is Landia Technology, with their:
AD/Biogas mixer manufacturer claims energy savings of

up to 50%
AD Operators and water companies can reduce the energy usage of their digester pumps and mixers by up to 50%, according to the leading manufacturer, Landia.
"It is somewhat ironic that in an industry trying to create and save energy that there is so much energy being wasted", said Landia's Paul Davies.

"Poorly designed mixing systems located inside a digester, which are difficult to service, are typically using 7.5kW motors running flat out 24/7, using up 180 kW hours per day.

"Motors on externally-mounted systems that are also far easier to maintain may be bigger at 18.5 kW, but only have to run for 10-15 minutes per hour to achieve the same or often better results.  Even at 15 minutes per hour, the energy usage is just 110 kW hours per day, compared to 180 kW.  This is on just one mixer/pump, so the energy savings are substantial".
It is not just Landia that are making claims for the high performance of their biogas plant mixing technology either, their clients are happy to confirm their gains, as the next section shows:
Ham Baker Director Provides Support for Landia Mixing Technology
During a key conference session at the 2016 UK AD and Bioresources conference, Ham Baker's Business Development Director, Ian Goddard provided support for Landia's GasMix technology, as follows:
"It was a very timely and encouraging conference session put together by ADBA (Anaerobic Digestion & Bioresources Association),"
said Ian Goddard.
"Landia's GasMix (Twice Highly Commended at UK AD & Biogas Industry Awards), which is easy to retrofit, is at the forefront of improving gas yields – a system we don't make but have in our Renewables portfolio because we believe in it so much".
He added:
"It is therefore heartening to think that the water companies can be less risk-averse – embracing such a low maintenance yet highly effective technology that allows them to greatly improve revenue".
The fact that the Landia GasMix product is well respected within the UK Anaerobic Digestion Industry is also demonstrated by the highly commended rating their technology has been given by the top UK trade association for biogas plants in the UK, AD and Bioresources Association in their annual awards, as explained below:
Two 'Highly Commended' Placements for Landia GasMix at UK AD & Biogas Industry Awards
At its very first attempt, Landia gained two Highly Commended Honours at the much-coveted UK AD & Biogas Industry Awards.
In recognition of the success of its GasMix digester mixing equipment at the acclaimed Richgro AD plant near Perth, Landia was applauded by the independent panel of judges for the considerable part it has played in the first renewable energy site of its kind in the whole of Australia.
The externally-mounted GasMix system was chosen by Richgro for its enhanced gas yields, ease of service and reduction in volatile solids.
For pre-treatment, GasMix also reduces viscosity by 30% (as tested by the University of Aarhus in Denmark) and is energy-efficient, usually only needing to run for 7-10 minutes in the hour, so the consumed power is just one-sixth of the installed power.
Biogas Plant Mixing System
In addition, Landia's GasMix digester mixing system was also Highly Commended for its reliability and supreme performance at Eco Sustainable Solutions' food waste-to-energy AD plant in Dorset, where it has increased gas yields by a massive 12.5%.
A total of four Landia GasMix systems serve two 2500m3 digesters, utilising 18.5kW chopper pumps to generate a total of 700m3 gas per hour.
Total mixing is achieved via specially angled recirculation nozzles.  Compared to many energy-burning systems that have to run flat-out, 24/7, Landia's GasMix at Piddlehinton only needs to operate for approximately 10 minutes per hour.  Despite using 18.5kW motors, compared to typical 7.5kW submersible units, GasMix has been shown to use fifty per cent less energy than the previous system.
The following video shows how this mixer works:
For more information about Landia GasMix biogas reactor mixers visit http://www.landia.co.uk/mixers/gasmix
Also:
GasMix Made It Into The WEFTEC 2016 Top Ten
Editor at wateronline.com, Kevin Westerling attended the recent 89th Annual Water Environment Federation Technical Exhibition and Conference (WEFTEC), the world's largest annual water quality exhibition.
With over a thousand exhibitors on hand, Kevin made a "best of" list from all that he came across — a snapshot of various technologies that stood out from the masses, exceptional for their level of innovation and potential for industry impact, and the Landia mixer product made it into the top 10. via Landia News
Also available from this website is the Biogas Yield eBook here, which includes many more ways to increase biogas yield.