It has been more than 4 years since we wrote about the first combined heat and power plants with SCR Exhaust Gas Cleaning Systems that were being delivered by ETW Energietechnik of Germany at that time.
We have archived our original (March 2018) article below, for our readers because it remains relevant today.
In this update, we explain what SCR Exhaust Systems do for the emissions from all Gas Engines, plus how they do it and why they should be cleaned:
What is Selective Catalytic Reduction (SCR)
Selective catalytic reduction (SCR) is a method of converting nitrogen oxides, also known as NOx, into diatomic nitrogen (N2) and water using a catalyst (H2O). A reductant solution, typically anhydrous ammonia (NH3), aqueous ammonia (NH4OH), or urea (CO(NH2)2), is added to a flue or exhaust gas stream and reacted onto a catalyst. Nitrogen (N2) and carbon dioxide (CO2) are produced as the reaction progresses toward completion in the case of urea use.
Selective catalytic reduction (SCR) is a technology that uses a catalyst to reduce the level of nitrogen oxides (NOx). Different catalysts can operate over different temperature ranges.
The Engelhard Corporation patented selective catalytic reduction of NOx using ammonia as the reducing agent in the United States in 1957. SCR technology development continued in Japan and the United States in the early 1960s, with research focusing on less expensive and more durable catalyst agents. The IHI Corporation installed the first large-scale SCR in 1978.
Commercial selective catalytic reduction systems, which can reduce NOx by 70-95%, are commonly found on large utility boilers, industrial boilers, and municipal solid waste boilers. Diesel engines, such as those found on large ships, diesel locomotives, gas turbines, and even automobiles, are more recent applications.
SCR systems are also the preferred method for meeting Tier 4 Final and EURO 6 diesel emissions standards for heavy trucks, as well as automobiles and light commercial vehicles. When compared to vehicles from the early 1990s, NOx and PM (particulate matter) emissions have been reduced by up to 90% in many cases.
SCR is an active emission control technology system designed to decrease emissions at tailpipes for newer generation engines and equipment up to zero.
SCR Catalyst System SCRs are intended to take in NOx (oxides of nitrogen, usually in the form of atmospheric pollutants) and convert them into their harmless root components (water vapour and nitrogen gas). The SCR catalyst serves the role of catalysing a reaction with the NOx emissions from your diesel engine.
To increase the life of the catalyst, pollutants, sulphur compounds, and fly ash can all be removed by installing scrubbers before the SCR system, though most plants' scrubbers are installed after the system for thermal energy transfer reasons.
The Need for Deplugging SCR Catalysts
Over time debris from the generator exhaust gases accumulate and they eventually form a plug. This increases backpressure significantly, thereby reducing production capacity.
Failure of the gas flow upstream of the catalyst can easily cover the catalyst surface and inhibit the circulation of HRS.
Cleaning and dismantling the catalysts can ensure reciprocating engines can operate with a re-activated system and restores the capacity of the system catalyst to produce a clean airflow.
The formation of NOx increases with increasing temperature. The faster the gas cools, the more NOx is permanently formed. NOx is produced by a variety of sources, including boilers, incinerators, and gas turbines. Chemical reactions, such as those involving nitric acid, are another source of NOx.
The SCR system when working correctly has the highest level of efficiency for NOx reduction and can reach performance up to 98% reduction with less than 2 ppmvd of NH 3 slip. An SCR system is recommended when the temperature of the flue gas shall be between 180 °C and 450 °C.
The minimum effective temperature depends on the various fuels, gas constituents, and catalyst geometry.
SCR Catalyst Washing may be needed if you have noticed an uptick in emissions or a decrease in fuel economy with your gas engine. If so, the SCR catalyst may be the problem. Western Filters offers SCR catalyst cleaning services.
Take advantage of SCR catalyst cleaning services to improve the performance of your equipment at a low cost. Branch Environmental also offers to provide several different technologies for removing oxides of nitrogen (NOx) from the air or flue gas.
Mitsubishi Power and Other Selective Catalytic Reduction (SCR) Systems Providers
Mitsubishi Power also provides Selective Catalytic Reduction (SCR) Systems, whereas we originally reported on the converters provided by ETW Energietechnik. Mitsubishi also provides this equipment. For example, there is their AQCS unit. They list a NOx removal efficiency of 95% using a low environmental impact spherical h32ppm SCR catalyst.
It says on its website that Mitsubishi Power has over 40 years of experience supplying SCR catalysts to sophisticated flue gas treatment systems.
SCRs are specialized for the conversion of dissolved organic carbon into molecular carbon. This can occur in gas turbine exhausts based upon mixing NOx with ammonia to induce reaction. A catalyst needs to assist in conversions to accomplish this.
Cummins and other diesel engine manufacturers created an after-treatment system that uses a diesel particulate filter (DPF).
To inject and distribute the reagent into the flue gas flow, Yara uses an ammonia injection grid with patented designs that achieves very high mixing rates in a confined space. The result is an almost full NOx conversion at minimum ammonia slip.
Why is SCR Catalyst Cleaning Important?
Regular use may cause damage to SCR systems and decrease their performance. Selective Catalytic Reduction catalyst replacement can be extremely expensive, sometimes costing thousands and thousands of dollars.
Catalysts in CRS have to be swept out to eliminate toxins causing contamination. The catalyzed gas will leak if the catalyst cannot be kept in good condition.
The combination of the pollutants in the gas and the ammonia slip can create downstream ammonia salts that may plate onto the surface of heat exchangers and reduce heat transfer efficiency.
As catalysts do often become contaminated the traditional methods of clean-up may not be very effective nor safe to employ. Using a dry ice blasting technique, offered by some cleaning service contractors is said to be a way to counter such problems.
Care must always be used when designing an SCR system to avoid excessive temperature rise. Excessive is defined as anything that takes the temperature higher than the design range for the catalyst. Excessive temperatures will rapidly deteriorate the effectiveness of a catalyst.
A company called Environmental Alternatives Inc. provides onsite catalytic cleaning solutions to return old systems to clean and functional systems once more.
---
First Combined Heat and Power Plants with SCR Exhaust Gas Cleaning System Delivered by ETW Energietechnik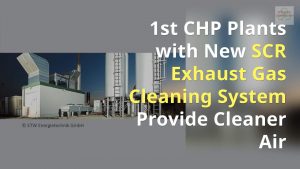 ETW Energietechnik has delivered the first combined heat and power plants with SCR equipped exhaust gas cleaning system. A Duisburg municipal utility CHP plant has been equipped with this new, urea injection-based system "SCR" exhaust gas cleaning system.
The German CHP specialist ETW Energietechnik has delivered natural gas CHP units with selective catalytic reduction (SCR) technology for the first time. Therefore, Stadtwerke Duisburg is the first to use "Adblue technology" from ETW in this example of combined heat and power plants with SCR.
The family-run business from Moers comprises three plants with MWM engines of the type TCG 2020V12, each with an electrical output of 999 kilowatts.
Watch the video below which introduces this subject, and then SCROLL on down for the full story.
Combined Heat and Power Plants with SCR – Efficiency: 94%
At the Duisburg-Mitte and Duisburg-Süd sites, two of the three ETW plants with significantly reduced nitrogen emissions, have been in operation since the end of 2017.
The third plant in Duisburg-Süd will also be commissioned at the beginning of 2019. By that time, all three plants achieved a very good overall efficiency of 94% each.
They will be using an intelligent heat utilisation concept, based on a second installed exhaust gas heat exchanger stage (AWT), and heat recovery from the mixed cooling circuit.
"SCR" Exhaust Gas Cleaning System Delivers at Emission Below Levels Below all Statutory Current Limits
With the fully operational, fully automatic SCR catalytic converter plant including urea injection (Adblue system), the ETW plants comply with the latest state-of-the-art and therefore fall below all currently required exhaust emission limits, which for Luft 2017 are:
NOx: < 100 mg/Nm³ (exhaust gas dry at 5% O2)
CO: < 100 mg/Nm³ (exhaust gas dry at 5% O2)
Formaldehyde: < 20 mg/Nm³ (dry flue gas at 5% O2).
Easily provided by the new ETW Energietechnik Combined Heat and Power Plants with SCR.
Highest Current Environmental Standards Already Achieved But The New Equipment Will Comply With New (More Stringent) Standards
From a legal point of view, compliance with the old limit values from the "TA-Luft" version of 2002 remains the legal requirement in Germany.
The "TA-Luft" version of 2002, specifies that 500 milligrams of NOx, 300 milligrams of CO and 30 milligrams of formaldehyde per standard cubic meter must not be exceeded. The amendment to the TA-Luft of 2017 has been initiated but has not yet been adopted. The new, lower limit values, which the ETW CHPs in Duisburg already comply with, are fixed here.
The stricter future values were written into the specifications by Stadtwerke Duisburg. By complying with the amended 2017 directive, the utilities aim to generate their energy in the most environmentally friendly and sustainable manner possible.
Reacting to Customer Requirements
ETW Energietechnik's innovative Adblue CHP units are among the first SCR plants in Germany that are currently operating under full load on the grid.
The managers at ETW are absolutely certain that others will follow and that Adblue will become the standard. Usually, they currently only deliver the standard SCR catalytic converter housing with a single-nozzle section for Adblue. They include just the elements needed for compliance with the values according to TA-Luft 2002. This simplifies subsequent retrofitting considerably and enables the company to react immediately to customer requirements.
Sales Manager at ETW, Alexander Szabo said:
"Be sure to plan for upgrading Accordingly, we are already advising our customers to plan the SCR catalytic converter in the form of a casing, including the injection line, for all systems".
Mr Szabo added that:
"The specialists at ETW Energietechnik GmbH are certain that the limit values in the 2017 amendment, will be adopted in the foreseeable future. When that happens the new regulations will become generally applicable to all CHP plants after a transition period. This will also occur throughout Europe.
In Italy, even stricter limit values are required.
ETW Energietechnik has the capability to upgrade all CHP units with their Combined Heat and Power Plants with SCR technology, to comply with the new emission regulations, throughout Europe.
Background Information to this Installation of the First Combined Heat and Power Plants with an SCR Exhaust Gas Cleaning System
ETW Energietechnik GmbH has been developing and producing energy plants in Moers, Germany, since 1997. The company's core business comprises the construction and maintenance of combined heat and power (CHP) plants in the output range of 400 to 4,600 kWel, as well as highly efficient Biogas Upgrading plants that produce pure Biomethane out of raw Biogas using a high-end PSA technology.
The company is a one-stop provider: From the transfer of biogas to the feed-in of power into the grid and the provision of heat, ETW also takes care of the construction, commissioning, and maintenance of CHP and Biogas Upgrading plants.
The clientele of ETW Energietechnik GmbH includes large energy suppliers, agricultural plants, municipalities, and industrial businesses of various types and sizes, all of which attach importance to eco-friendly, economic energy generation.
One of the strategic highlights is the implementation of economic, sustainable plant concepts that are planned individually and adapted to the respective requirements. A qualified service team ensures operational reliability and maximum availability of the plants.
The medium-sized, family-owned enterprise employs a staff of 80. It is managed by its founder Helmut Weiss and his two sons Marco and Carsten.
For more information on Combined Heat and Power Plants with SCR, visit the CHP page on their website.
---
[Post date: Page originally published on 24 March 2018.]