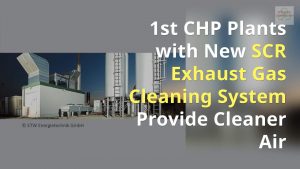 ETW Energietechnik has delivered the first combined heat and power plants with SCR equipped exhaust gas cleaning system. A Duisburg municipal utility CHP plant has been equipped with this new, urea injection based system "SCR" exhaust gas cleaning system.
The German CHP specialist ETW Energietechnik has delivered natural gas CHP units with selective catalytic reduction (SCR) technology for the first time. Therefore, Stadtwerke Duisburg is the first to use "Adblue technology" from ETW in this example of combined heat and power plants with SCR.
The family run business from Moers comprises three plants with MWM engines of the type TCG 2020V12, each with an electrical output of 999 kilowatts.
Watch the video below which introduces this subject, and then SCROLL on down for the full story.
Combined Heat and Power Plants with SCR – Efficiency: 94 percent
At the Duisburg-Mitte and Duisburg-Süd sites, two of the three ETW plants with significantly reduced nitrogen emissions, have been in operation since the end of 2017. The third plant in Duisburg-Süd will also be commissioned at the beginning of 2019. By that time, all three plants achieving a very good overall efficiency of 94 percent each. They will be using an intelligent heat utilisation concept, based on a second installed exhaust gas heat exchanger stage (AWT), and heat recovery from the mixed cooling circuit.
"SCR" Exhaust Gas Cleaning System Delivers at Emission Below Levels Below all Statutory Current Limits
With the fully operational, fully automatic SCR catalytic converter plant including urea injection (Adblue system), the ETW plants comply with the latest state-of-the-art and therefore fall below all currently required exhaust emission limits, which for Luft 2017 are:
NOx: < 100 mg/Nm³ (exhaust gas dry at 5 percent O2)
CO: < 100 mg/Nm³ (exhaust gas dry at 5 percent O2)
Formaldehyde: < 20 mg/Nm³ (dry flue gas at 5 percent O2).
Easily provided by the new ETW Energietechnik Combined Heat and Power Plants with SCR.
Highest Current Environmental Standards Already Achieved But The New Equipment Will Comply With New (More Stringent) Standards
From a legal point of view, compliance with the old limit values from the "TA-Luft" version of 2002 remains the legal requirement in Germany.
The "TA-Luft" version of 2002, specifies that 500 milligrams of NOx, 300 milligrams of CO and 30 milligrams of formaldehyde per standard cubic meter must not be exceeded. The amendment to the TA-Luft of 2017 has been initiated, but has not yet been adopted. The new, lower limit values, which the ETW CHPs in Duisburg already comply with, are fixed here.
The stricter future values were written into the specifications by Stadtwerke Duisburg. By complying with the amended 2017 directive, the utilities aim to generate their energy in the most environmentally friendly and sustainable manner possible.
Reacting to Customer Requirements
ETW Energietechnik's innovative Adblue CHP units are among the first SCR plants in Germany that are currently operating under full load on the grid.
The managers at ETW are absolutely certain that others will follow and that Adblue will become the standard. Usually, they currently only deliver the standard SCR catalytic converter housing with a single-nozzle section for Adblue. The including just the elements needed for compliance with the values according to TA-Luft 2002. This simplifies subsequent retrofitting considerably and enables the company to react immediately to customer requirements.
Sales Manager at ETW, Alexander Szabo said:
"Be sure to plan for upgrading Accordingly, we are already advising our customers to plan the SCR catalytic converter in the form of a casing, including the injection line, for all systems".
Mr Szabo added that:
"The specialists at ETW Energietechnik GmbH are certain that the limit values in the 2017 amendment, will be adopted in the foreseeable future. When that happens the new regulations will become generally applicable to all CHP plants after a transition period. This will also occur throughout Europe.
In Italy, even stricter limit values are required.
ETW Energietechnik has the capability to upgrade all CHP units with their Combined Heat and Power Plants with SCR technology, to comply with the new emission regulations, throughout Europe.
Background Information to this Installation of the First Combined Heat and Power Plants with an SCR Exhaust Gas Cleaning System
ETW Energietechnik GmbH has been developing and producing energy plants in Moers, Germany, since 1997. The company's core business comprises the construction and maintenance of combined heat and power (CHP) plants in the output range of 400 to 4,600 kWel, as well as highly efficient Biogas Upgrading plants that produce pure Biomethane out of raw Biogas using a high-end PSA technology.
The company is a one-stop provider: From the transfer of biogas to the feed- in of power into the grid and the provision of heat, ETW also takes care of the construction, commissioning, and maintenance of CHP and Biogas Upgrading plants.
The clientele of ETW Energietechnik GmbH includes large energy suppliers, agricultural plants, municipalities, and industrial businesses of various types and sizes, all of which attach importance to eco-friendly, economic energy generation.
One of the strategic highlights is the implementation of economic, sustainable plant concepts that are planned individually and adapted to the respective requirements. A qualified service team ensures operational reliability and maximum availability of the plants.
The medium sized, family owned enterprise employs a staff of 80. It is managed by its founder Helmut Weiss and his two sons Marco and Carsten.
For more information on Combined Heat and Power Plants with SCR, visit the CHP page at their website.