We offer you below a list of 10 top Biogas Pump Manufacturers active in Europe which we believe is truly a list of leading companies in sustainable slurry pumping Innovation in the AD industry.
As we continually grapple with environmental sustainability issues, biogas pump manufacturing stands as one of the core "must not fail" product services used in every anaerobic digestion facility in biogas energy production. The growing demand for alternative energy sources has given rise to numerous companies offering state-of-the-art biogas pump solutions.
Today, we'll explore the top 10 biogas pump manufacturers in Europe, focusing on their innovation, quality, and commitment to a greener planet.
(Note: The numbering is random and has no relation to each Biogas Pump Manufacturer's standing.)
Vogelsang
Located in Germany, Vogelsang is an industry-leading biogas pump manufacturer renowned for its high-quality and efficient products. Specializing in rotary lobe pumps, the company prides itself on providing bespoke solutions for biogas plants of all sizes.
Wangen Pumps
Headquartered in Allgäu, Germany, Wangen Pumps is another powerhouse in the biogas pump manufacturing sector. They offer an array of energy-efficient biogas pumps and are noted for their commitment to sustainable and intelligent solutions.
Landia
Denmark-based Landia has been in the pump business for over 85 years. Their GasMix biogas pumps are just one of their products known for their effectiveness in diverse biogas production setups. With an unwavering commitment to sustainability, Landia's solutions stand out in the market.
Netzsch
Netzsch, another German company, has been providing various industries with high-quality pumping solutions for decades. They supply pumps for sludge pumping in sewage treatment plants, and for a wide variety of applications in the field of biogas, Their NEMO® progressing cavity pumps have been lauded for their efficiency in biogas production, making Netzsch a reliable choice in the market.
Börger GmbH
Also based in Germany, Börger GmbH offers a range of high-quality biogas pumps, known for their robustness and durability. They specialize in customizable rotary lobe pumps ideal for the strenuous requirements of biogas production.
KSB
KSB is a well-established company based in Germany. They have a broad portfolio of products and services, including pumps of a type likely to be useful to the biogas industry. KSB's pumps in most applications are renowned for their innovative design and energy efficiency.
Xylem (Flygt)
Although headquartered in the United States, Xylem has a strong presence in Europe, better known under the FLYGT brand. They are a global leader in water technology, providing efficient and innovative solutions including biogas pumps.
Watson-Marlow Fluid Technology Group
Located in the United Kingdom, Watson-Marlow offers peristaltic pumps that have proven to be effective in various sampling and chemical dosing pump applications in connection with biogas production. Their products are known for their flexibility, good support service, and low maintenance requirements, making them a favorite among users.
Verder International
Verder International, a Dutch company, offers a variety of pump solutions, including those suited for biogas applications. Their high-quality pumps and innovative technologies have earned them recognition in the industry.
PCM
PCM, based in France, provides innovative pumping solutions suitable for a range of industries, including biogas positive displacement (progressive cavity) pumps for new energy production. Their pumps have a reputation for good performance and durability.
Choosing the right biogas pump manufacturer
Choosing the right biogas pump manufacturer plays a crucial role in the efficiency of your biogas production. This list comprises some of the best manufacturers in Europe, providing a starting point in your search for the perfect biogas pump solution.
Remember, when selecting a manufacturer, consider factors such as the type of pump, energy efficiency, maintenance requirements, and the level of after-sales support offered by the company.
In this age of environmental consciousness, biogas pump manufacturers are not just providers of equipment. They are partners in our collective journey toward a sustainable future. By opting for greener solutions, we contribute to a healthier planet, contribute to a healthier environment, and secure the future of energy production.
As we look at the energy landscape, we can see the value that these top biogas pump manufacturers bring to the table. They offer innovative solutions that align with our modern needs for sustainability and efficiency.
By investing in their state-of-the-art equipment, businesses and individuals alike can harness the potential of biogas – a renewable, carbon-neutral, and cost-effective source of energy.
Developing More Reliable and Efficient Biogas Plants
These biogas pump manufacturers are not just advancing their respective businesses; they are also setting the pace for an industry transformation. They are at the forefront of the shift towards greener energy, driving the industry forward through technological advancements, dedicated research and development, and an unwavering commitment to a sustainable future.
Concluding: 10 Top Biogas Pump Manufacturers in Europe
In conclusion, the biogas sector is rapidly evolving, and these 10 top manufacturers are leading the charge in Europe.
Their continued innovation and dedication to quality are making biogas a viable, sustainable, and increasingly cost-effective alternative to traditional fossil fuels. With their leadership, the future of energy looks not just green, but bright and promising.
Remember, when you're selecting a biogas pump, you're not just investing in a piece of equipment. You're investing in a sustainable future, supporting companies that are leading the way in green technology, and becoming part of a solution that benefits us all. So consider your choices carefully, and take a step towards sustainability.
Interested in learning more about the biogas sector and other sustainable technologies? Keep following our blog for the latest news, insights, and in-depth analyses. The path towards a greener future starts with being informed. And remember, the change begins with you.
10 Top Biogas Pump Manufacturers in Europe: References:
---
The following is a copy of the original post on this page which was published on 16 May 2020.
---
Specialist Biogas Pump Manufacturer Returns to Full-Service Capability
Specialist biogas pump manufacturer Landia has returned to full-service capability by utilizing the latest in IT-based remote online pump commissioning and services.
In a development that we suspect will become the norm for the engineering industry generally as companies adjust to life after COVID-19, remote equipment commissioning is proving to be not only a savior for Landia but to introduce a new level of efficiency.
If the new methods prove to consistently reduce costs we predict that some savings may in the months to come, even be passed down to customers. Read on to find out more:
---
Press Release:
 Lockdown for Landia Opens Door to Online Commissioning and eServices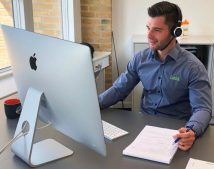 Concerned but unfazed by the Coronavirus lockdown, Landia reports significant cost and environmental benefits from the new online commissioning of its pumping and mixing equipment.
Established in 1933, Landia says it thought it had faced all possible challenges to its business, but nothing quite like this. One positive outcome however of the travel restrictions caused by the global pandemic is online commissioning, which in many cases is reducing manhours for all parties by as much as 90%.
"Online commissioning might not become the new normal",
said Landia's Export Director, Thorkild Maagaard,
"but our new eServices are here to stay. In fact, we see no limitations as to what we can offer our customers online. All they need is a smartphone and an internet connection".
Maagaard cited a recent example of a Landia installation in Hong Kong.
"Before the lockdown, we would have had to send an engineer to go through the installations before a Commissioning Approval Certificate could be signed. We are at an advantage because we have a dedicated team in Shanghai, but the cost would still have been around $3,000."
The visit would have included:
Pre start-up check, dry test
Pre start-up check, wet test
Education of service staff on site.
"But if we'd had to send over one of our engineers from our manufacturing facility in Denmark, the cost would have been in excess of $5,000. Either way, online commissioning is a fraction of the cost".
According to specialist biogas pump manufacturer Landia, with typical time-consuming delays such as the contractor usually having to wait for a supervisor, on-site commissioning for a project of this size could take up to 8-10 days in total.
In comparison, online commissioning would take the equivalent of just one day. Online commissioning also offers the added benefits of:
Pre-installation meeting with the Landia Project Manager
Supervision on demand. Minimum of one online meeting per day
Supervised 'Talk through' guidance during the installation
Online dry test
Online wet test
Approved commissioning. Written acceptance from Landia.
"Quite rightly, we could be asked why we haven't done this before"
, continued Maagaard,
"and we'd be the first to admit that the lockdown forced us to think differently. The more we looked into what we could offer, the more ideas we saw to support our global business – ideas that at the same time, mean less air travel and a much-reduced global footprint for us, our customers and the planet".
As for disadvantages, Landia says that different time zones require a bit of organising but that they are already very used to that – and where unstable internet connections persist, a video can be made and sent for download.
During a recent 2-week total lockdown on the island of Jersey, in a period of lockdown when no planes or ships were permitted, Landia was able to provide online commissioning for maintenance of its digester mixing systems.
As was the case with Landia's online commissioning for Hong Kong, costs were reduced for both parties by 90 percent.
"Naturally, we all look forward to the end of lockdown and being out on-site to see our customers and those we work with"
, said Maagaard,
"but we are already looking to expand our new Landia eServices for the training of maintenance staff, problem-solving with technical issues, supervision of repairs and annual inspections. A considerable part of the way we do business has now changed". 
PR ends
---