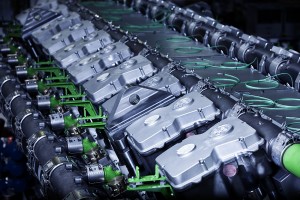 Clarke Energy is assisting Agrivert to produce renewable energy from Oxfordshire Council's waste. Agrivert's new Wallingford Anaerobic digestion facility is helping to deliver a sustainable solution to both waste treatment and renewable energy production in Oxfordshire.
The anaerobic digester processes food waste collected from Oxfordshire County Council and other local sources and produces biogas, a renewable fuel. The biogas is used in a combined heat and power (CHP) plant, achieving fuel efficiency in excess of 84%.
Food Waste Digestion
The anaerobic digestion facility delivers a number of benefits including:
Food waste is diverted from landfill and is used to create enough renewable electricity to power 6,000 average UK homes
Agrivert's digester produces biogas, a renewable fuel which is converted at high efficiency to electricity and heat using a gas engine CHP plant installed by Clarke Energy
Clarke Energy installs, commissions and tests the gas engine's connection to the grid in record time.
Jenbacher Gas Engines
The Wallingford Anaerobic Digestion facility is able to treat 45,000 tonnes of food waste originating in Oxfordshire each year. It utilises two GE Power & Water, high-efficiency JGMC416GS-BL Jenbacher gas engines. The biogas engines are capable of producing a combined output of 4.7MW of renewable energy in the form of 2.4MWeelectricity and 2.30MWth heat.
The heat is used to keep the digesters at the correct temperatures for the plants operation, and to pasteurise the food waste, hence ensuring the fertiliser quality meets the highest standards. The electricity is in turn exported to the local electricity grid delivering renewable power to the surrounding area.
The biogas CHP plant was commissioned in December 2012 and passed G59 grid connection tests in a record time for Clarke Energy. via Clarke-Energy
---
Gas Reciprocating Engines and Monitoring
Maintenance decisions on components that are experiencing non-linear wear-out in biogas applications are challenging and cannot be made by relying solely on a time-based strategy.