I was recently asked to comment on the use of "biomethane" vs "natural gas", almost as if the two were in competition with each other. This, at one and the same time, both surprised me and impressed me.
The available quantity of supply of biomethane (renewable natural gas) is very small compared with natural gas (geological methane) production. For that reason alone biomethane would not be able to replace much of the current demand for natural gas.
Biomethane is the term usually used to refer to the raw biogas produced by the anaerobic digestion process, whereas "natural gas" has always referred to the geologically extracted methane from below ground which is compressed and pumped to the end-user in urban gas supply systems worldwide.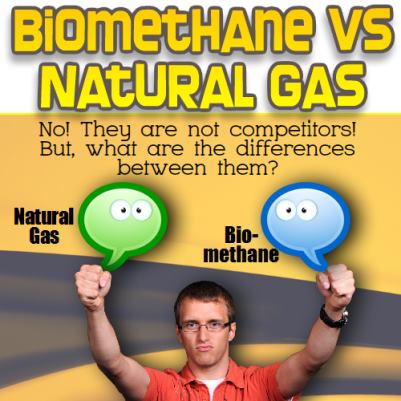 However, many anaerobic digestion plant operators are discovering that by cleaning up, drying, and compressing biogas biomethane they can produce a higher value "green" product which (subject to quality control checks and maybe also the addition of a percentage of a higher calorific-value gas), can also become "natural gas" and be injected into gas supply pipelines (the gas grid).
Only less that 5 years ago (2013), the idea of upgrading biogas from anaerobic digestion plants and to some extent other renewable gas sources such as landfill gas was seen as a "nice idea", it had not been done on a significantly large scale and there were no companies offering the necessary gas clean-up equipment optimized for this purpose.
In addition, the relatively small volume of biogas available for upgrading to biomethane, in comparison with the vast usage of natural gas means that now and for the foreseeable future, the quantity of biomethane will always be small and hardly a competitor with natural gas.
Having said that though, biomethane could before very long contribute of the order of 10% of natural gas demand in some energy sectors in many countries, so the industry sector will be likely to grow into a significant contributor to natural gas supplies.
But, biomethane will never be a major competitor with natural gas in household and industrial supplies, and won't push back natural gas demand as an industry-wide competitor in my view, at least not in the next 30 years.
Where it is starting to compete with LNG (Liquified Natural Gas) though is in the transport sector, judging from the articles which follow.
Biomethane Versus Natural Gas
However, you can judge that for yourself by reading our roundup of the sector news as follows:
Our first extract could hardly be more positive for prospects of the biomethane sector, comes from the UK's AD and Biogas Association:
The challenge of decarbonising sectors still reliant on diesel such as heavy goods transport and buses, for which electricity is not yet practical, was reiterated by speakers representing the full breadth of the supply chain.

Whatever their perspective though, there was one clear message – that switching to gas and biomethane is the only way for these sectors to achieve the meaningful reductions in greenhouse gas emissions and improvements in air quality needed.

This remarkably overt and strong demand for biomethane within the haulage and freight sector has potentially significant wider implications for government policy and the AD industry: cross departmental coordination particularly in terms of waste and bioenergy policy, such as separate food waste collections, as well as appropriate financial incentives, will be vital if the AD industry is to be able to deliver the biomethane the transport sector is calling for.
ᔥOpportunities huge for biomethane and gas as transport fuel | ADBA | Biomethane Versus Natural Gas"
Another ambitious project is GreenGasGrids which we analyze here for a winner when we pit Biomethane versus Natural Gas:
The GreenGasGrids project (GGG), which was funded by the Intelligent Energy for Europe (IEE) program and established to support the upgrading of biogas to biomethane for injection into the natural gas grid, has published a document called 'Biomethane Guide for decision-makers – a policy guide on biogas injection into the natural gas grid'. Natural gas vehicle (NGV) engines burn methane as fuel, and biomethane is a renewable gas that has a major reduction impact on emissions.

NGVA Europe explains the publication is intended as a source of quick reference for decision makers and authorities from municipal to national level….

….NGVA Europe says that the full potential of biomethane has yet to be realised, but it is becoming more important on the political agenda and as a business opportunity in various EU Member States due to its numerous advantages. NGVA Europe believes that biomethane could become one of the main pillars to reach the mandatory 2020 target of 10% renewable in transport due to its huge production potential, the non-existent blending limitation with fossil NG and its associated GHG emission benefits.
ᔥGreenGasGrids Publishes 'Biomethane Guide for Decision-Makers … Biomethane Versus Natural Gas
All this optimism is also reinforced by an article which is useful when writing about Biomethane Versus Natural Gas, which provides news of orders being placed for upgrading equipment that cleans up the biogas from anaerobic digestion plants to make it into pure biomethane:
Pressure Technologies plc is pleased to announce that its Alternative Energy division, comprising Chesterfield BioGas Ltd., has secured two orders to supply biogas upgraders and ancillary equipment with a combined sales value of £4.6 million ($7.17 million).

Both projects use the Totara model biogas upgrader, capable of processing up to 2,000 cubic meters of biogas per hour. The Totara upgrader will clean the raw biogas, produced by anaerobic digestion of the waste, to more than 98 pecent pure biomethane, matching the purity criteria required of natural gas being piped to households and commercial premises.
Pressure Technologies secures two orders for biogas upgraders …
Biomethane vs natural gas isn't a contest for sure!
However, the rising popularity of upgrading biomethane so that it is accepted by the natural gas supply authorities worldwide is gaining momentum.
Using biomethane, made from raw biogas which is a renewable biofuel makes so much sense that it can't be ignored.
The urgent need to decarbonize piped-gas (natural gas) energy supply systems, will force greater biomethane use. As time goes on this will make understanding what the two are (i.e. biomethane vs natural gas), and the comparison between the two, ever more important over the coming years.
---
[Added: May 2021]
Renewable Natural Gas (RNG) and Biomethane Advantages and Challenges
What is renewable natural gas (RNG), and how does it differ from conventional natural gas?
Organic wastes rotting in landfills, sewage treatment plants, and biodigesters are currently the main source of RNG, also known as biomethane, biogas, or renewable methane.
Methane is produced when organic material rots in the absence of oxygen.
Finding inspiration in nature is one way at least one oil company portrays its endeavors to enter the renewable energy industry.
Chevron is attempting to develop dairy farms as a source of alternative energy.
They are working to generate and market dairy biomethane as a renewable natural gas in collaboration with California Bioenergy LLC (Calbio) and California Dairy Farmers (CDF).
Renewable natural gas (RNG), also known as sustainable natural gas (SNG) or biomethane, is biogas that has been upgraded to a quality comparable to fossil natural gas and contains 90% or more methane.
It becomes possible to distribute methane-based biogas to customers over the current gas system and within current appliances by increasing the quality of the biogas to that of natural gas.
Biogas upgrading technologies for biomethane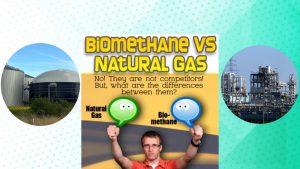 Biomethane has been shown to be a viable substitute for fossil fuels. Biogas upgrading methods must be improved in order to lower the energy cost of production.
A temperature/pressure swing adsorption technique is proposed in this contribution to remove CO2 from biogas flow. It will utilize a non-conventional material and an appropriate adsorption cycle.
Biomethane, often known as renewable natural gas (RNG), is created by upgrading biogas.
It can also be used in gas engines as a renewable fuel.
Biomethane is a renewable fuel created by biogas upgraders that remove carbon dioxide from biogas.
To remove contaminants, biogas is dried and purified before being improved to pure biomethane.
Peaking power stations can also employ biomethane.
Because biomethane is a renewable fuel, it can be used to balance intermittent renewable energy, resulting in a completely renewable power source.
Renewable Natural Gas Markets
This shift could provide another natural gas alternative, in the long run, using biomethane in existing gas networks, although progress has been gradual.
In markets where gas networks may be reconfigured to offer renewable gas, renewable gas is another potential for displacing conventional geologically exploited gas.
There is a jumble of regional and state markets, utilities, incentives, and rules in the United States.
However, according to Hanselman and others, additional states may mandate renewable natural gas generation in the coming years, bolstering the embryonic biogas sector. Hanselman, who used to run a solar company, says it feels;
"very comparable to solar."
Sustainable synthetic natural gas
British Gas (Centrica PLC) has stated that it has started injecting sewage-derived gas into the gas system.
In British Columbia, FortisBC, a gas supplier, also injects renewable natural gas into its existing gas distribution system.
Sustainable synthetic natural gas is a word that is frequently used to describe this form of renewable energy. Many more gas grid companies have already followed, or will soon be following the leaders.
When is renewable natural gas going to become important?
A paper has been published that lays out a roadmap for decarbonizing heavy-duty vehicle transportation in Ireland and the United Kingdom.
This starts with an immediate biomethane rollout that would see all CNG and LNG stations providing renewable gas within a decade.
Natural gas and biomethane are two critical vectors in the next stage of the net-zero energy revolution.
While biomethane is expected to still be crucial in the medium future, it is expected that the emphasis will change. Gradually it will be seen as more important for it to become the vital alternative for oil in the production of all the chemicals currently produced in oil refineries.
Hydrogen will take over the gas grids and become increasingly common, but not until the 2030s.
This might be accomplished by combining natural and renewable gas in mixed %age combinations. In the mid-to-late 2020s.
Several CNG stations are scheduled to transition to hydrogen in that decade in the UK.
By 2050, zero-emission HGVs powered by hydrogen should be the norm.
When biogas is converted to RNG, it has the potential to sell for significantly more than natural gas.
Socalgas® had an average monthly natural gas commodity price of $3.00 per MMBtu in 2016.
RNG is sold for a significantly greater price than natural gas in the US because to the credits created under the low carbon fuel standard and the renewable fuel standard. A similar incentive exists throughout the EU states.
To power compressed natural gas (CNG) cars, the system converts biogas into renewable natural gas (RNG) biogas-based fuel.
BioCNG is a simple technology that allows individual businesses and communities to produce their own vehicle fuel.
They claim that this can be done at a tenth of the cost of gasoline or diesel while maintaining or improving engine performance.
Renewable Natural Gas Production
Anaerobic digestion (AD) is a natural process that has long been used to leaven bread and brew beer.
The result is a renewable gas that can be used in a variety of ways. Biomethane is obtained by upgrading biogas.
This purified version of raw biogas can be utilized as a natural gas substitute: during biomethane production, co2, h2o, h2s, and other impurities are eliminated, leaving a high-caloric, pure gas.
Uses of biomethane include heating, cooking, hot water production, and fuel, etc., uses that are identical to those of natural gas energy, except that they are 100% renewable.
Local authorities, manufacturers, and farmers are therefore embarking on these projects to produce and inject biomethane as an alternative energy solution.
About biogas and biomethane growth
Looking to reduce climate change impact and particle emissions, the heavy-duty transport sector is moving towards growth within technology and infrastructure for use of liquefied natural gas (LNG).
This opens an opportunity for the biogas market to grow as well, especially in the form of liquefied biomethane (LBM).
Biogas is a clean, easy-to-control renewable energy source made from biological waste materials that can be used to replace fossil fuels with a carbon-neutral alternative.
When biogas is converted to biomethane, it becomes a natural gas supply.
Cummins Westport has approved the usage of up to 100 percent biomethane that complies with Cummins' normal natural gas fuel standards.
The Experience of Denmark and Projections for Biogas and Biomethane Production
Denmark's first manure-based biogas plant was built in 1975. Biomethane now accounts for around 10% of all gas put into the system. [Source: Nature Energy.]
According to research commissioned by Gas for Climate, and industrial collaboration, biomethane output in Europe might reach 98 billion cubic metres per year by 2050.
At present levels, that would be a 4,800% gain. However, those figures are debatable.
The International Council on Clean Transportation (ICCT), a green NGO, estimated that Europe's potential for sustainable biogas production by 2050 is 36 billion cubic metres per year, far less than industry estimates.
Denmark has advocated for increasing biogas production as much as possible.
Following the ratification of its national "energy agreement" for 2012-2020, the country began developing biomethane on a large scale.
As a result,
"biomethane currently accounts for roughly 10% of what is put into the natural gas grid, which is a significant amount,"
according to Eyl-Mazzega.
There are also environmental advantages: biomethane generation from agricultural waste and residues produces digestates, which can be used instead of artificial fertilizers.
As a result, avoided further carbon emissions are possible, which is excellent for the environment.
Environmentalists do not challenge the economic and environmental benefits of biogas generation. These are mostly focused on rural populations.
Because the biogas business is now so small, none of these challenges is particularly pressing at the moment.
However, as the industry expands in scale, it will be scrutinised more closely and the additional advantages of biomethane will become more apparent.
According to "Bioenergy Europe", a trade organization, France had the best growth rate for biomethane plants in 2017-2018 due to favourable fiscal and environmental/ climate change policy conditions.
---
[Article first published August 2013: Latest update May 2021]