Renewable Natural Gas (RNG) use is growing for HGVs in the US and much of the credit for that can be attributed to a company known as "Clean Energy Fuels" (Clean Energy®).
Clean Energy® is a company with a very clear mission. That mission is quite simply to change the way the world fuels its vehicles. Reducing pollution from the transportation industry is an important goal for our the US nation, and at Clean Energy they know just how realistic and attainable that goal is with natural gas fuel.
Quoting from their website:
"Moving forward in our thinking as well as in our vehicles means a safer, healthier planet for all of us. This change is happening. Natural gas is abundant and economically viable and is increasingly being adopted as transportation fuel by countries around the world."
Clean Energy® Natural Gas is available at all Clean Energy public and private fueling stations throughout North America. Natural gas is naturally abundant across North America and is a cleaner, less expensive alternative to gasoline and diesel. Clean Energy Natural Gas is available in:
CNG (Compressed Natural Gas),
LNG (Liquified Natural Gas) and
Redeem® renewable natural gas (RNG).
Clean Energy is currently selling Redeem at stations for the same price as conventional natural gas.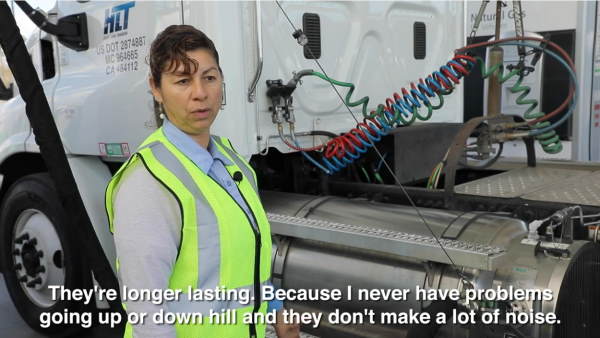 Redeem® is described as the world's first renewable fuel made entirely from organic waste for use in commercial vehicles. Redeem® is a biomethane fuel which is cost-efficient, and available in North America and up to 70% cleaner than gasoline and diesel, making it a smart choice for natural gas vehicle fleets including heavy-duty trucks.
Clean Energy® has seen what must surely be a golden opportunity to reduce the environmental impact of vehicle fuel use in a wonderfully pragmatic way. Those that seek to improve their fleet emissions, but are not convinced of the climate change reduction benefits of renewables will surely go for the compressed natural gas fuel offered. At the same time, others will want their renewable natural gas product Redeem®.
Redeem® is made from methane gas (biogas) which is collected from various organic waste sources such as landfills, farms, and wastewater treatment plants, and upgrade to Natural Gas methane purity levels (biomethane).
Now you know what Clean Energy® and Redeem® RNG are, we have used the remaining sections of this article to provide information from the Clean Energy® website and blog to understand how they are expanding their market and building new fuel station capacity.
---
Clean Energy Provides Grant Application Support for 168 Near Zero RNG Trucks
The program funds clean technologies aimed at improving air quality and is administered by the south coast AQMD. With the support of Clean Energy, grant applications for 168 vehicles were submitted for a diverse array of trucking applications including port trucks that service the ports of Los Angeles and Long beach, regional delivery trucks, and concrete mixers.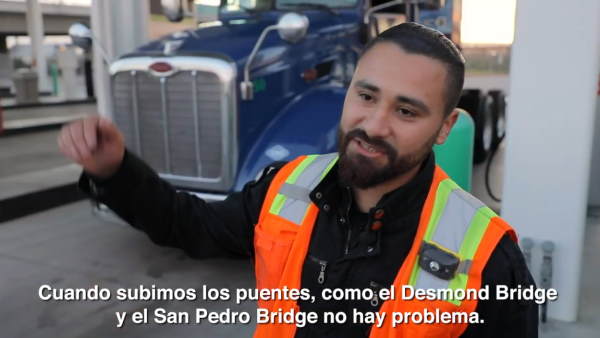 "This truck performs just as well as a regular diesel truck natural gas trucks so they can do the job we're pulling anything from 20s 40s 53s. We pull about everything."
Watch the above video on YouTube here.
"Clean Energy's grants team is dedicated to assisting fleets with obtaining grants and providing financial support to fleets, so they can easily transition to the cleanest trucks available powered by the cleanest fuel available."
New trucks that receive Carl Moyer funding are taking advantage of clean energy's redeem dollar deal program, which is helping customers switch to a zero emissions solution, a combination of the CWI natural gas engine and redeem renewable natural gas (RNG) fuel.
Clean Energy to Supply Dallas Fort Worth International Airport with Renewable Natural Gas; DFW Becomes First Airport Outside California to Use Redeem™ RNG
Dallas – Clean Energy Fuels Corp. (NASDAQ: CLNE ) announced at the Airports Going Green 2017 Conference, that host airport Dallas Fort Worth International (DFW) airport awarded Clean Energy a renewable natural gas (RNG) fueling contract for the airport's vehicle fleet.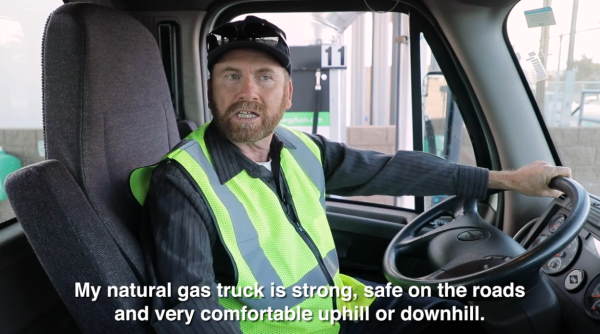 Truck Drivers Like Helping the Environment with Near Zero RNG Trucks
Enjoy!. Truck drivers like the performance of RNG trucks. Near-zero natural gas trucks are great for the environment, but can they hold up to the demanding business of port trucking? Watch what real port truck drivers have to say about the performance of today's natural gas trucks. Truck drivers prefer RNG trucks over diesel.
Can a near-zero Natural Gas truck powered by RNG really be better than a diesel truck?
What truck drivers are saying is that they like helping the environment with RNG trucks. Real port truck drivers share their views on helping the environment by fighting air and climate pollution with near-zero natural gas trucks powered by RNG. Truck drivers like fueling V trucks. What is it like to fuel a near-zero emissions Natural Gas Truck? Real port truck drivers share their story on the Clean Energy website.
Truck Drivers Like the Performance of Near Zero RNG Trucks
Clean energy's zero now provides an affordable solution to help fleets transition to fueling with RNG, resulting in cleaner, quieter vehicles that rival the performance of diesel and gasoline trucks.
Clean energy is the leading provider of natural gas fuel and renewable natural gas (RNG) fuel for transportation with a network of over 535 stations across north america, and delivers more CNG, LNG, and RNG vehicle fuel than any other company in the US.
Factors that might cause or contribute to such differences include, among others: Clean Energy's and Total's ability to satisfy all of the conditions required to complete Total's proposed investment in clean energy .
Some of that may not be within the control of the parties;
Clean Energy's and total's ability to agree on the terms of and launch the proposed truck leasing program, and acceptance by truck operators of the same;
future supply, demand, use and prices of crude oil, gasoline, diesel, natural gas, other vehicle fuels, and heavy-duty trucks and other vehicles and engines powered by these fuels, including overall levels of and volatility in these factors;
the willingness of fleets and other consumers to adopt natural gas (including RNG) as a vehicle fuel, and the rate of any such adoption;
Clean Energy's ability to capture a substantial share of the market for alternative vehicle fuels and vehicle fuels generally and otherwise compete successfully in these markets;
Clean Energy's ability to accurately predict natural gas vehicle fuel demand in the geographic and customer markets in which it operates and effectively calibrate its strategies, timing and levels of investments to be consistent with this demand;
Clean Energy's ability to recognize the anticipated benefits of its natural gas fueling station network;
Clean Energy's ability to manage and grow its RNG business;
changes to federal, state or local greenhouse gas emissions regulations or other environmental regulations applicable to natural gas production, transportation or use;
and general political, regulatory, economic, market and other conditions.
RNG-Powered Trucks Are Affordable and Available Today
Ironically, long-held positions perpetuate the status quo of old diesel trucks, and their associated emissions of air and climate pollutants.
Contrary to the belief of many there is a much better alternative to diesel and it is available right now without the need to spend vast sums on new technology. nor is there any need to wait.
Advanced clean truck technology that is affordable and cost-effective exists today that reduces both air and climate pollution.
Air and climate pollution are serious issues occurring today, yet US states are spending billions of dollars on what what is effectively is a big bet that battery electric trucks will someday replace aging diesel trucks.
It is unknown if and when battery electric trucks will be commercially ready, viable and affordable.
RNG-Powered Trucks Are the Most Cost-Effective Solution
May 8, 2018. Six trucking firms operating in the ports of Los Angeles and Long Beach are deploying trucks powered by Cummins Westport (CWI) near-zero ISXL2n engines, and fueled with Clean Energy Fuel Corp.
Pacific 9 Transportation will soon deploy 20 other RNG-powered trucks in addition to their grant-funded ultra low-nox trucks.
The ports of Los Angeles and Long Beach enacted the latest version of their CAAP in November 2017, which adopts far reaching strategies to further reduce air emissions and support California's vision for more sustainable freight movement.
Conclusion
Thanks to the efforts of six progressive harbor trucking firms that are demonstrating with today's near-zero emission natural gas trucks, that the US can slash transportation emissions immediately and cost effectively.
The result has been that:
Clean Energy is the largest provider of natural gas fuel for transportation in North America, fueling over 46,000 vehicles each day at over 530 fueling stations throughout the
United States and Canada.