Save hundreds of thousands of pounds a year on feedstock, by adding the revolutionary anaerobic digestion feedstock pre-treatment from Future Biogas. Introducing, the Economizer SE.
The Economizer SE is a revolutionary turn-key solution for the Anaerobic Digestion (A D) industry, says Future Biogas. It will make biogas production easier and cheaper.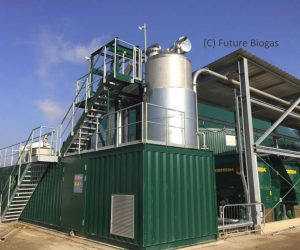 The anaerobic digestion feedstock pre-treatment technology reduces reliance on crop feedstocks and allows utilisation of low value residual materials. This could allow A D plant operators to save costs amounting to several hundreds of thousands of pounds a year, says the company, on their website.
Working as a feedstock pre-treatment system the Economizer SE, uses a process of steam-explosion, to break down previously indigestible organic materials, by removing the lignin coating. This means for the first time that materials such as straw, husks, shells, wood waste, reeds, biogas digestate and many animal manures can be used efficiently in the AD process.
The future of biogas lies in the use of lower cost, readily available biomass feedstocks, particularly those which are under-utilised or where energy use is a secondary step, such as solid animal manures.
Driven by economics, the ever-present issues around "food v fuel" and government decisions on what to fund with tariffs, novel solutions needed to be found for the biogas industry.
One of the key developments required when developing this new anaerobic digestion feedstock pre-treatment method, was a technology to access the energy in so-called "ligno-cellulosic" feedstocks. In these, nature has worked hard to make the digestible elements difficult to access, and they include cereal straws, hay and landscaping cuttings.
Watch our video below (which we made using the text on this page), but don't forget to return at the end, and to comment with your views.
Conclusion to this Revolution in Anaerobic Digestion Feedstock Pre-treatment
Future Biogas believes that it has found that REVOLUTIONARY TECHNOLOGY. It has also secured the rights to be the sole distributor of this revolutionary new technology, through its subsidiary Future Biogas Systems, and is in the process of installing the first Economizer SE in the UK at its latest plant.
This video is based upon the Future Biogas website – available at: Future Biogas.
We also make videos like this one, for our clients – Visit https://ippts.info for your video creation quote!
---
What Others Are Saying About Anaerobic Digestion Feedstock Pre-treatment
Flow-through biomass pretreatment module with 30m3/hour throughput
WiseSoil Feedstock Pretreatment Module (FPM) is a solution for increasing efficiency of biogas plants. Module is based on a proprietary technology, and can be installed as add-on before any digester. Anaerobic Digestion technology can be compared to digestive system, where FPM acts as teeth, chewing the food before it gets to the stomach. Module is compatible with any digester system, costs up to 5% of total plant cost and provides customer's ROI of about 1.5 — 2 years.
WiseSoil technology integrates five pre-treatment functions in a high-efficient, compact pre-treatment module that carries out 5 pre-treatment functions on feedstock and can be attached easily to biogas digester feed lines.
Module disperses feedstock into small-size fractions, minimizes disruption of the bacterial environment inside the digester by deoxygenating, mechanical hygienisation and preheating of feedstock. The combination of all these processes makes feedstock highly reactive and most favorable for the reactor microflora environment, allowing for fast & full digestion that maximizes biogas yield. WiseSoil technology competitive advantage lies in a synergy of processes: it simultaneously accelerates waste digestion & increases biogas yield. via WiseSoil
Pretreatment of feedstock for enhanced biogas production
Many pretreatment methods are expensive or have a high energy demand and their efficiency is often difficult to prove. However, some pretreatment methods can sometimes stabilise biogas plants that have stability problems (for example by adjusting the pH) and can potentially make new substrates available for anaerobic digestion. Pretreatment is particularly well suited for substrates where the degradable biomass is sterically not available for enzyme attack. Pretreatment is typically not necessary for substrates with high degradation rates. Finally, it should be noted that pretreating all substrates with one technology is not realistic. … via IEAPretreatment
Boosting manure based biogas with straw
Increasing livestock densities and tougher environmental demands on manure management are compounded by low methane yield from manure-based biogas plants and the ligno-cellulosic nature of straw that makes it elusive to co-digest. Until now that is. Danish company Kinetic Biofuel A/S has demonstrated a patented straw pre-treatment technology that enables manure-based biogas plants to use straw as co-substrate and over double biogas output. via Boosting manure based biogas with straw | Bioenergy …
Global Methane Initiative … 3.3.2 –Pre-treatment of Feedstock Pre-treatment can be a vital step in an AD process. The requirements vary depending on the feedstock: via Global Methane Initiative