Waste Autoclave pretreatment of residual household waste, and food waste, for all its undoubted advantages in increased biogas yield during subsequent anaerobic digestion of the organic fraction, has met with a difficult period. The story has not been a good one, since we originally posted our article on this subject in May, 2012.
In a shocking disaster the Doncaster waste autoclave suffered an explosion killing one worker and injuring another. The image here shows part of the security camera footage, in an excerpt from the YouTube video (Copyright RotherhamAdvertiser). It is included her to act as a warning to others about the severity of such explosions, and to respect all safety precautions.
In our original article we reported on 3 autoclave waste pre-treatment projects, in England:
 The Sterecycle Autoclave in Doncaster using what appears to have been an in-house developed autoclave design.
The Graphite Resources Derwenthaugh Ecoparc, Newcastle project which utilised Rotoclave Rotary Steam Autoclave Technology, licensed from the US.
The Devon County Council, Advanced Anaerobic Digestion Plant which was planned for construction on a redundant china clay site at Lee Moor, which was to use autoclaving technology to be provided by the AeroThermal Group.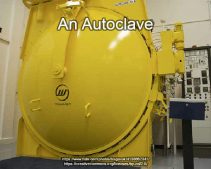 As far as we have been able to establish, none of these three have resulted in successful autoclave facilities:
The Sterecycle Autoclave resulted in an explosion and one death in 2011, and the subsidiary went into liquidation, the company was found guilty of major health and safety failings. 

The Graphite Resources Rotoclave at DerwenthaughEcoparc waste autoclave ceased to operate in 2013 due to financial problems.

The Devon County Council, Advanced Anaerobic Digestion Plant has not been built, as far as we are aware.
These failings should be seen against a background of falling recyclate market value.
These plants were unfortunate to have been commissioned at a time when soon after, the market value of recyclates dropped to a very low level. A level which posed big questions about the profitability of most UK recycling operations. Autoclaving, relying as it apparently was, on revenue from sales of recyclate products was bound to be vulnerable.
For an in-depth insight into the state of Waste Autoclave Pretreatment for subsequent digestion in the Anaerobic Digestion process, keep reading the following article excerpts to gain the full picture:
---
JANUARY 2011: Explosion
Recycling firm fined £500,000 after being found guilty of corporate manslaughter over death of father-of-three killed in explosion
NOVEMBER 2014: A recycling firm which was found guilty of corporate manslaughter over the death of an employee through 'inexcusable neglect' has been fined £500,000.
The 42-year-old was working at the waste management company, which is now in administration, as an autoclave operator.
He suffered fatal head injuries when the door to one of the  autoclaves – pressure chambers which sterilise equipment – exploded.
The force of the blast was so great, it blew a hole in the wall of the factory in Rotherham, South Yorkshire.
Michael Whinfrey died in a blast at the Sterecycle recycling plant in Rotherham in January 2011.
Today, the company was found guilty of corporate manslaughter and ordered to pay the fine at Sheffield Crown Court.
Welcoming the verdict and sentence, HSE Inspector Carol Downes said: 'This terrible incident was entirely preventable.
Mr Whinfrey's partner of 28 years, Margaret Crofts, said his death had left a 'huge hole' in her life.
She said:
"On January 11 my partner of 28 years Michael Whinfrey went to work never to return."

"Michael, a father to our three children, was a hard working man who loved and cared for all his family and friends."
Mr Whinfrey was killed when the door to a pressure chamber exploded. …
Employees were inadequately trained and felt in genuine fear for their safety at the site. Another employee sustained serious life-changing injuries in the explosion.
Detective Sergeant Rob Platts, who led the investigation for South Yorkshire Police, said:
"I am pleased with the verdict reached today as it recognises the systemic failings of a company who had a duty of care to its employees."

"The company was aware of a longstanding issue with the autoclave doors and made no effort to repair the problem properly, putting the lives of their employees at risk."

"Because of the company's inexcusable neglect, a man lost his life in a completely avoidable incident." …

"Modifications were made to the autoclaves without adequately considering the effect on the equipment. Safety devices were removed because they slowed production and when breakdowns occurred 'running repairs' were made without ever getting to the root cause of the problems."

"Employees were inadequately trained and felt in genuine fear for their safety at the site. The view was taken that production should be maintained at all costs. Other employees and members of the public were also put at risk."

"This terrible incident was entirely preventable. The clear standards and strict inspection regimes set out in the regulations were totally neglected by the company."
via dailymail.co.uk
---
Sterecycle fined £500,000 over 'preventable' worker death
NOVEMBER 2014: A joint investigation, conducted by South Yorkshire Police and the Health and Safety Executive, found that the explosion resulted from the failure of a screw connection to the autoclave locking ring, which secured the door to the machine.
The company was found guilty of corporate manslaughter at Sheffield Crown Court on Friday (November 7) following a month-long trial. Sterecycle's former maintenance manager, Kevin Goss, operations director, Paul Greenwell and operations manager, Steven Weaver, were earlier acquitted of corporate manslaughter charges.
Sterecycle ceased operations in October 2012 after having been placed into administration. It is unclear how much of the £500,000 fine will be recovered, with financial reports filed in August by the firm's administrator Mazars showing that Sterecycle's creditors had been paid around 28p of every £1 owed, with losses totalling more than £3 million.
The Sheffield Road plant in Rotherham operated using two 50,000 tonnes per year capacity autoclave pressure chambers, which were used to heat household and business waste. The facility produced a soil like product which could be used as a growing media or in combined heat and power plants.
According to South Yorkshire Police, its investigation into the explosion at the site revealed that Sterecycle had had longstanding issues with the doors to the autoclave chambers that were "clearly not rectified properly and safely."
Detective Sergeant Rob Platts, who lead the investigation for South Yorkshire Police, said: "I am pleased with the verdict reached today as it recognises the systemic failings of a company who had a duty of care to its employees.
"The company was aware of a longstanding issue with the autoclave doors and made no effort to repair the problem properly, putting the lives of their employees at risk. Because of the company's inexcusable neglect, a man lost his life in a completely avoidable incident. via letsrecycle.com
Eco chiefs submit green energy bid for Derwenthaugh Ecoparc at Blaydon
Eco chiefs have lodged a bid to construct huge chimney towers as part of a green energy plan.
Graphite Resources Ltd have applied to Gateshead Council to construct two 35m tower stacks as part of efforts to create renewable electricity.
A public meeting is due to be held today over the future of the development at Derwenthaugh Ecoparc, on Derwenthaugh Road, Blaydon.
It comes less than two years after the site was mothballed with creditors stepping in to settle the company's finances. As part of the collapse, more than 40 people lost their jobs.
Today Coun Kathryn Ferdinand, who looks after the area and who called for a public consultation, said she would be "monitoring the situation closely".
She said: "There's not a lot of this in the country so we will be monitoring the proposals. We want to get the business into the community to find out what type of waste is being processed."
The Graphite Resources Ltd facility, which opened in 2010, heated and sterilised waste at 160C, allowing it to be used for building or bio-fuel rather than dumped in a landfill.
However, after just two years of trading, in July 2012 the company was mothballed and its finances are in the middle of being settled by creditors.
Less than two years later, the Environment Agency launched an investigation into a waste mound consisting of thousands of bales of rubbish.
Towering packages of waste fibre are still present at defunct company Graphite Resources Ltd's site at Derwenthaugh Industrial Estate in Swalwell, Gateshead. via chroniclelive.co.uk
UK's largest waste autoclave plant to be resurrected
A defunct autoclave plant in Gateshead is to receive a new lease of life from October 2016, following a £2.2 million injection into the facility.
And, the site's new owner – Catfoss – has also been awarded planning consent to construct two gasification plants on the five-acre site.
Graphite Resources' Derwenthaugh EcoParc closed its doors in 2013 with a loss of 70 jobs.
The facility – which was aimed to be the largest steam-based autoclave plant of its kind in the UK – was capable of processing 320,000 tonnes of municipal and commercial solid waste when operations began in 2009.
Autoclaving is a process which involves heating the waste at high temperatures via pressurised steam, segregating recyclables and sterilising the waste fraction for use as refuse-derived fuel or biofuel.
The EcoParc is now set to be resurrected, after the site was sold to Humberside-based holding company Catfoss last year by Bilfinger GVA's Newcastle Industrial Agency on behalf of Graphite Resources. An environmental permit for the site was reissued by the Environment Agency in September 2015. via www.letsrecycle.com
---
What is a Waste Autoclave?
According to Wikipedia:
A waste autoclave is a form of solid waste treatment that uses heat, steam and pressure of an industrial autoclave in the processing of waste.
Waste autoclaves process waste either in batches or in continuous-flow processes. In batch processes, saturated steam is pumped into the autoclave at temperatures around 160 °C.[1] The steam pressure in the vessel is maintained up to 6 bar (gauge) for a period of up to 45 minutes to allow the process to fully 'cook' the waste. The autoclave process gives a very high pathogen and virus kill rate, although the fibrous products which come from the process are susceptible to bacteria and fungus as they are high in starch, cellulose and amino acids.
Some autoclaves, also referred to as waste converters, can operate in the atmospheric pressure range to achieve full sterilization of pathogenic waste. Super heating conditions and steam generation are achieved by variable pressure control, which cycles between ambient and negative pressure within the sterilization vessel. The advantage of this new approach is the elimination of complexities associated with operating pressure vessels. However, steam that is not 97% saturated may not contain sufficient energy to kill the spores that may be on the surface of the items it comes in contact with.
Sterecycle claimed to be the first company in the world to build and operate a full scale autoclave plant for household waste. In late 2005 the company started construction of the first vessel for their industrial scale autoclave plant to process household waste. Under contract from 3 local authorities, the Sterecycle plant has been in full commercial operation in Yorkshire, England since June 2008 (but for a period of shut-down for inspection by the Health and Safety Executive following an explosion in January 2011, see below) and processes mixed household waste. The twin autoclaves are commercial-scale, processing 100,000 metric tons (110,231.1 U.S. tons) per year of waste from Barnsley, Doncaster and Rotherham councils under a long term contract for up to 10 years.
Sterecycle has folded. via WikiPedia
---
Conclusion: Will UK Waste Autoclave Technology Return or Will Gasification Prevail?
In conclusion, autoclaving science suggests some compelling advantages are still available from the technique when used in combination with a biogas digester in MSW MBT plants, and food waste digesters.
When the dust eventually settles from the Sterecycle autoclave explosion, and recyclate prices rise once again, these benefits may still win-out.
Autoclaving followed by AD, can provide high levels of waste diversion, and large quantities of green energy. Plus, they can provide fertilizer outputs not available from alternative heat treatment techniques, such as gasification.
To make this point we provide, as follows, an excerpt, abridged from an article by the AeroThermal Group:
Pretreating food waste with a combination of steam and pressure, in a machine known as an autoclave, will double the throughput of an anaerobic digester and significantly reduce the amount of ammonia concentrations by denaturing proteins, according to research by AeroThermal Group.
For the plant operator, this means that by using an autoclave, they can potentially double the throughput of the plant and in doing so, they would double revenues for only a marginal increase in operating costs, since the autoclave uses waste heat from the CHP process.
AeroThermal says this makes for an attractive proposition to food waste AD plant operators, in a market where gate fees continue to fall.
The autoclave can easily facilitate the co-processing and blending of different types of waste, since it pasteurizes, homogenizes and hydrolyzes the feedstock in one simple and highly effective process, the researchers say.
According to AeroThermal, its experiments have shown that autoclaving has the effect of producing a feedstock for AD which allows stable digestion at very high loading rates, without the addition of trace elements which could be harmful to the environment.
Stable operations were also said to have been achieved at a loading rate as high as 10 kg VS/m3/day with food waste autoclaved at 140oC, while the digesters operating on un-autoclaved feedstock failed at a loading rate of 5 kg VS/m3/day.
The denaturing of protein during the autoclaving pre-treatment, is stated to have the effect of reducing the quantity of ammonia generated. via waste-management-world.com
---
Finally, it seems that a new autoclaving project in the US may show the UK industry how to be successful with this technology as follows:
Last month a first-of-its-kind anaerobic digester in California began capturing methane from agricultural waste and turning it into clean biogas to power an ethanol facility in Tulare County. via www.environmentalleader.com
But, we understand that the new facility at the Derwenthaugh EcoParc when resurrected will be a plant which uses the latest gasification technology. So, it is possible that if successful the waste management industry will adopt gasification in future, and never return to autoclaving?
The following is the original article archive, as uploaded on 11 May, 2012:
---
UK Project Claimed to be a World First for Full Scale Autoclaving with Wet AD
This was wonderful news for all those that are keen to see innovation in the biogas industry. But, we cannot see any evidence that the plant ever progressed beyond this stage. There are no further news items online, and no website exists. If anyone can tell us what went wrong, we would be interested. Please comment with your information on why this project was closed down.
There are advantages in the use of autoclaving pretreatment in the manner in which it enables efficient separation of recyclates in a much healthier working environment than in a standard MRF.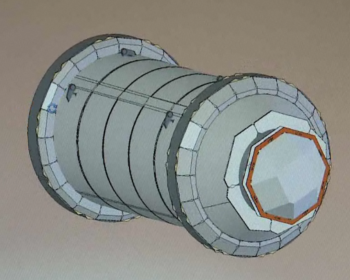 The technology also provides pasteurization for a salable digestate at the same time. The industry must be wishing this venture every success, and watching keenly to see how well the process performs. Especially of interest will be the plant's performance in removal of enhanced calorific value from the autoclaved organic content during digestion.
Devon County Council has awarded planning permission for an innovative £15m advanced anaerobic digestion (AD) facility, incorporating autoclaving to be built on a redundant china clay site at Lee Moor in the south of the county.
The facility will be operated by AAD (South West), a subsidiary of British engineering firm the AeroThermal Group, which has developed its own technology to treat mixed waste.
What is the AAD Process?
The Advanced Anaerobic Digestion process is a combination of autoclaving and anaerobic digestion technologies that will reduce the volume of waste; separate out recyclables; produce a soil-like material; and maximise green energy production providing a local and sustainable solution for waste. Up to 75,000 tonnes of waste will be able to be processed at the site annually.
During the anaerobic digestion process, micro-organisms break down biodegradable material in the absence of oxygen to produce a methane and carbon dioxide rich biogas, which is suitable for energy production.
Lee Moor AD Facility
The facility at Lee Moor is projected to generate up to 3MW of renewable electricity and a similar quantity of heat from the processing of around 75,000 tonnes of co-mingled food and green waste. The process will produce around 11,600 tonnes of dry, solid, soil-like material per year for land restoration and recycle about 15,000 tonnes of metals, plastic and glass combined per year.
The Lee Moor facility will be made up of two autoclave plants, screening and separation equipment, anaerobic digestion plant with associated buffer and digestate storage tanks, dewatering plant and a combined heat and power (CHP) plant.
The two autoclaves will operate in parallel, each treating mixed municipal wastes in ten tonne batches at temperatures of approximately 160ºC for 45 minutes at a pressure of seven bar. After being autoclaved, the waste will then be conveyed to screening equipment to separate the organic and inorganic fractions. Metals and other inorganics will be removed for recycling, while the organic fraction will be transferred to the The Biogas Digester.
The biogas will be combusted in the CHP plant to produce up to 3.2MW of renewable electricity and 3.8MW of heat. The electricity will be exported to the national grid, while the heat will be passed to a boiler to raise steam for use in the autoclaves and to provide heat for the AD tanks. The technology enables the steam to be recycled between the two autoclaves, significantly reducing the amount of energy needed by the system.
The digestate will be dewatered in a centrifuge plant to approximately 25% dry solids. It will then be used in the restoration scheme for the Lee Moor china clay pits which are located nearby. This will reduce the need to import restoration materials from other facilities which might be located significant distances away, further reducing costs and environmental impact.
As a stabilised and sanitised organic rich soil conditioner and fertiliser, the digestate will contain nutrients such as nitrogen, potassium and phosphorus that are essential for plant growth. A large proportion of these nutrients will be held in organic form and released slowly over a number of years as the material breaks down. This will allow for better synchronisation with the demands of plants than is normally possible with inorganic nutrient fertilisers. Applying the digestate will also improve soil structure and water retention capacity, encouraging the growth of grassland and other plants used in the restoration scheme. Visit the AeroThermal Group website.
This will not be the first full scale autclave plant for MSW, but the combination of autclaving with Anaerobic digestion is the first which is claimed. Do you know different? Comment below!
Enpure Limited was awarded a contract for autoclave heat treatment, by main contractor Clugston Construction in 2011, for a Municipal Solid Waste Treatment Plant at the Graphite Resources Derwenthaugh Ecoparc, Newcastle. This project, which utilises the Rotoclave Rotary Steam Autoclave Technology, is driven by landfill diversion and recycling targets and general improvements in waste collection and recycling strategies.
End of Archive Article, dated May 2012
---