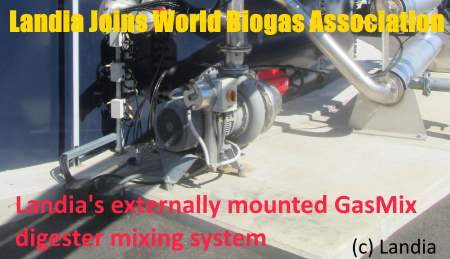 Landia the well-known AD pumps and mixers company, which offers a full service on all its products, has moved up to the World Biogas scene, and become a member of the World Biogas Association.
Press Release:
Landia AD pumps and mixers take to World Biogas stage
Landia, inventors of the chopper pump and pioneers of the acclaimed GasMix digester mixing system, have become the newest members of the World Biogas Association.
Founder members of the UK's Anaerobic Digestion and Bioresources Association (ADBA), Landia has significantly increased its global presence in the biogas industry during the past decade, particularly in China, the UK, the USA, the Far East and Australasia.
Landia's Export Sales Director Thorkild Maagaard, commented:
"As founder members of ADBA, joining the World Biogas Association is a natural step in our drive to find new markets.

"The common benefit enjoyed by our customers is reliability, back-up and our externally-mounted GasMix system, which makes life much easier and far more economical for AD operators. No biogas plant wants disruption to their process. GasMix also boosts gas yields, so it's a win-win. We look forward to working closely alongside our new fellow members to spread the good word about biogas".
Speaking for the World Biogas Association, David Newman, President, added:
"We're delighted to have Landia join the World Biogas Association. They have been strong advocates of AD since day-one of ADBA's launch almost a decade ago – and ever-presents at UK AD & World Biogas Expo. We look forward to working closely with Landia, to continue to grow biogas markets around the world".
For more information about Landia visit www.landiaworld.com
For more information about the World Biogas Association visit: www.worldbiogasassociation.org
---
Web Round-Up of Landia Information
Landia was founded in 1933, so they now have 80 years' experience in producing customized products of high quality. Today, Landia is one of the world's leading manufacturers of: chopper pumps, propeller mixers, aeration systems and advanced process equipment. via Pumps and Mixers by Landia A/S
The Landia of Computer Gaming! Pure Fantasy!
Landia is a four-headed dragon that appears in Kirby's Return to Dream Land. He is revered as a guardian of Halcandra, the inhospitable planet on which he lives, for keeping the legendary treasures of Halcandra safe since ancient times, most notably the Master Crown.
Landia is inadvertently responsible for setting the events of the game in motion. According to Magolor, he suddenly awoke from his long-lasting slumber and rampaged, attacking the Lor Starcutter and sending him spiraling to Planet Popstar; however, Magolor neglected to explain that Landia's behavior was in response to Magolor stealing the Lor and attempting to pilfer the Master Crown. Magolor battled Landia in the Lor and lost, forcing him to flee to the safety of another planet to recover–as no planets were nearby, he opened a rift and escaped into another dimension. via  FANDOM
Landia AD Pumps – History by Landia A/S
Landia developed their first chopper pumps in 1950. A chopper pump is a pump with rotating knives at the inlet of the pump, – a knife system which ensures that the pump does not stop due to impurities in the fluid being pumped.
Originally, Landia's chopper pump was designed to chop straw, which was always present in liquid manure and gave rise to breakdowns and problems.
Landia chopper pumps are still used extensively for pumping liquid manure but over the years have also won recognition for their excellence in other industries where there is a need for trouble-free pumping of e.g. untreated wastewater, sludge, liquid biomass, by-products from the food industry or highly abrasive fluids. via landiainc.com
Shropshire couple killed in road accident in Mauritius
Hugh Vaughan, and his wife Liz, were travelling together in a taxi. It is with deep sadness and shock that we have to report the untimely death of Hugh Vaughan, Director of Landia UK, who together with his wife Liz passed away after a road accident. via Shropshire couple killed