Biogas production from sewage sludge is likely to become more common at ever-smaller sewage treatment plants. One of the leading companies who will achieve this for their clients is Weltec Biopower. Weltec Biopower is one of the AD firms using it's biogas technology and making a big step into the wastewater treatment works industry. Their well-respected biogas technology is being be offered for smaller Sewage Works. The well established German biogas specialist has announced (as described below), that it will exhibit at the 2018 IFAT Trade Fair in Munich, and will be featuring their achievement in biogas production from sewage sludge.
Biogas production for sewage sludge treatment and disposal, has been a growing success story at the very largest sewage treatment works in many countries, for many years now. Globally, there is a large uptake of AD technology at STWs, often with with the inclusion of biomethane (biogas purificaton) upgrades for large city wastewater treatment plant digesters. But, why not generate more biogas throughout all of a water utility's sewage works infrastructure?
Is Biogas from Sewage Viable?
There is no reason not to treat all sewage works sludge to make biogas, and use the energy wisely to power wastewater treatment with power to spare. The only likely limit to the rate of progress in raising the level of biogas production from sewage sludge, will be the need to finance the up-front capital/ construction costs on new water treatment sludge digestion facilities. It will also be important to train more anaerobic digestion plant operating staff.
The following is the Press Release from Weltec Biopower, which features their skills in biogas production from sewage sludge.
WELTEC BIOPOWER to Showcase Solutions for the Energetic Utilisation of Organic Waste and Wastewater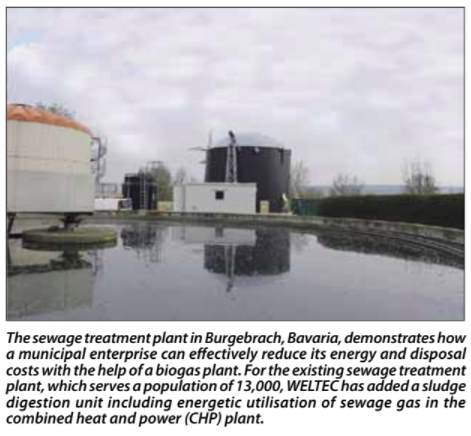 At the IFAT, the world's leading trade fair for environmental technologies in Munich, Germany, the German company WELTEC BIOPOWER will exhibit its technologies for the energetic use of organic waste and wastewater to a broad industrial and municipal audience.
From 14 to 18 May, the globally active biogas plant manufacturer will be present at stand 219 in Hall A4. Visitors are invited to approach the company for all questions concerning its tried-and-tested process technology for the establishment and expansion of anaerobic energy plants. This means promoting sustainable biogas production from sewage sludge.
The sewage treatment plant in Burgebrach, Bavaria, demonstrates how a municipal enterprise can effectively reduce its energy and disposal costs with the help of a sewage sludge biogas plant. For the existing sewage treatment plant, which serves a population of 13,000, WELTEC has added a sludge digestion unit including energetic utilisation of sewage gas in the combined heat and power (CHP) plant.
The new biogas from sewage facilities went live in spring 2016. Since then, the sludge has been stabilised with an anaerobic process in the custom-designed stainless-steel tower following the wastewater treatment in a two-stage trickling filter unit.
Thanks to the installation of the digestion unit, the unpleasant odour emissions around the sewage treatment plant have been eliminated. Moreover, the digestion reduces the amount of sludge and enables the energetic utilisation of the digestion gas. The operators gain from the biogas production from sewage sludge. And, also wanted to be able to use all the power and heat generated by the CHP plant for the on-site processes.
"Thanks to our self-supply, we are able to save the electricity costs of about 100,000 kWh/year"
said Arne Nath, Head of Wastewater Treatment at SüdWasser GmbH, the operator that has supported the town of Burgebrach since 2005.
This special plant benefits greatly from the proven technologies of WELTEC BIOPOWER:
Firstly, the modular structure of the stainless-steel plants enables a customer-specific layout.
Secondly, such projects draw on the experience that WELTEC has gained in the establishment of more than 300 biogas plants.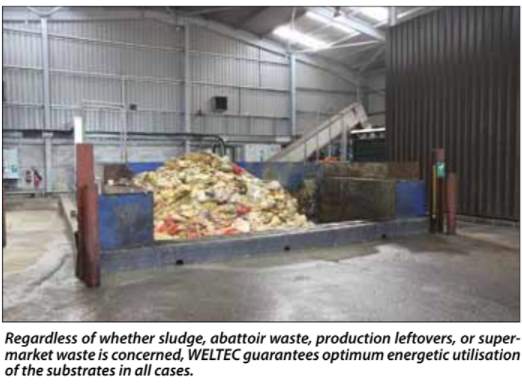 Every single plant has a different substrate structure. Regardless of whether sludge, abattoir waste, production leftovers, or supermarket waste is concerned, WELTEC guarantees optimum energetic utilisation of the substrates in all cases. This is possible with the help of smart processes and the comprehensive services and supervision by biologists and engineers.
Further information on the energetic utilisation and use of all types of organic waste and wastewater will be available from 14 to 18 May 2018 at the IFAT in Munich, hall A4, stand 219. The specialists of WELTEC are looking forward to meeting you! via weltec-biopower.com-news
More News About Biogas Production from Sewage Sludge
Ofwat offers to boost sewage sludge biogas in UK
The following paragraphs described a new opportunity in the UK for private biogas plant operators to bid for utility company sewage sludge which they will treat, and at the same time be able to generate a profit. This could be a new era for biogas production from sewage sludge.
"Where there's muck there's brass" is a wise Yorkshire expression.
Muck and brass is now a focus for Ofwat, which is keen to apply market mechanisms in the water and sewerage sector. Now that the reforms to the water retail market have completed, with non-household customers able to choose their water and sewerage suppliers, Ofwat's focus will turn to their upstream reforms. A key element of this is bioresources, or sludge.
So, what is the background to the reforms? The sludge that sewage treatment works produce sludge has historically been treated and disposed of by monopoly water and sewerage service providers, (WASCs). Ofwat's view is that there has been insufficient competitive pressure on this aspect of the water industry. Their reforms aim to put that right.
The objective is that WASCs find more economic ways of dealing with sludge. As an example, a WASC should explore if it would be cheaper to pass its sludge to another entity to treat as opposed to building new treatment capacity.
Ofwat's proposals start with the need to provide information – in very simple terms, Ofwat will require the WASCs to tell us all about their sludge…
WASCs will have to record bids for sludge. Ofwat will then examine how the WASCs are seeking to reduce the costs of sludge treatment, for example by trading. The WASCs' record of bids will doubtless be an interesting area of focus.
A number of WASCs have been very innovative in linking sludge and energy – one example is Wessex Water. Some suggest that there remains a real opportunity for power generation from sludge. Compared to UK electricity demand the potential output is small. However, energy from gas derived from sludge is predictable, which should be of real value given the extent of intermittent generation. A longstanding aim of UK and EU energy policy is to reward stable and flexible generation.
It follows that power generation is certainly an option to explore. via Ofwat offers boost for sewage sludge biogas
It could also be that biogas production from sewage sludge is just the start of a whole new era of biofuels production from sewage sludge. The following explains how a new discovery may make this a reality:
Sewage Sludge Leads to Biofuels Breakthrough
Researchers at the U.S. Department of Energy Joint BioEnergy Institute (JBEI) and Lawrence Berkeley National Laboratory (Berkeley Lab) have discovered a new enzyme that will enable microbial production of a renewable alternative to petroleum-based toluene, a widely used octane booster in gasoline that has a global market of 29 million tons per year.
Results from a study led by Harry Beller, Berkeley Lab senior scientist and scientific lead at JBEI, were published Monday in the journal Nature Chemical Biology. The other lead co-authors are Andria Rodrigues and Kamrun Zargar of JBEI.
A major focus of research at JBEI, and in the broader community of biofuel researchers, is the production of industrially and commercially relevant fuels and chemicals from renewable resources, such as lignocellulosic biomass, rather than from petroleum. The enzyme discovered in this study will enable the first-time microbial production of bio-based toluene, and in fact, the first microbial production of any aromatic hydrocarbon biofuel. via Sewage Sludge Leads to Biofuels Breakthrough