The Börger Bioselect digestate separator has become a top choice for operators seeking solid/ liquid digestate separation, and all AD Plant operators need this technology at the outlets from their biogas reactors.
When operators understand how outwardly simple the Boerger Bioselect BS 50 digestate separator is, it is not long before they come to accept it as the ideal machine for separating their fibre solids from the leachable digester liquid.
Make no mistake about it, the device may look simple, requiring no more than a power supply, electric motor, and a specially designed rotary lobe/ screw pump system with a screen/ filter, has demanded some highly sophisticated development.
The result is that the Börger Bioselect digestate separator stands for efficient separation technology, an low maintenance costs for the users of their technology.
Using a purely mechanical process, liquid parts are separated from solid parts in the medium (such as digestate or liquid manure).
The Bioselect BS digestate separator is a combination of the separation machine and two Rotary Lobe Pumps. These three drive units are joined with a special control unit with various control and safety components.
The separator is load-triggered. The feed pump only conveys the volume which the Bioselect BS is able to process. The high density solids discharge pump determines the degree of thickness.
If required, the user can thicken for example 4% DS content liquid manure into 12% DS making it suitable for a tanker. Likewise, pig and cattle liquid manure as well as fermentation residue can be thickened to for example 22%, without making any mechanical adjustments to the machine.
The Borger BS Digestate Separator – Provides Effective Liquid/ Solid Fibre Separation Technology for Both Incorporation Into New Plants and Retrofitting Into Existing AD Units
The BS 50 can be easily integrated into an existing system. Equally, this compact solids/liquid separator can also be used as a mobile unit in existing and new plants.
Furthermore, the Bioselect BS can achieve throughput volumes of up to 60 m³/h and continue to run at those rates for long periods.
What Others Are Saying About The Borger Method Of Solids Separation:
Borger Bioselect Digestate Separator as Mentioned in UK Export News
Global Industrial Lobe Pump Market Research Report 2017 tracks the major market events including product launches, technological developments, mergers & acquisitions, and the innovative business strategies opted by key market players. Along with …
Cam Pump Lobe Pump Market provides in depth analysis of the industry overview with market growth analysis, revenue, demand and supply data. Global Cam Pump Lobe Pump Market report states about the manufacturing process with top key players in this … via UKExporterNews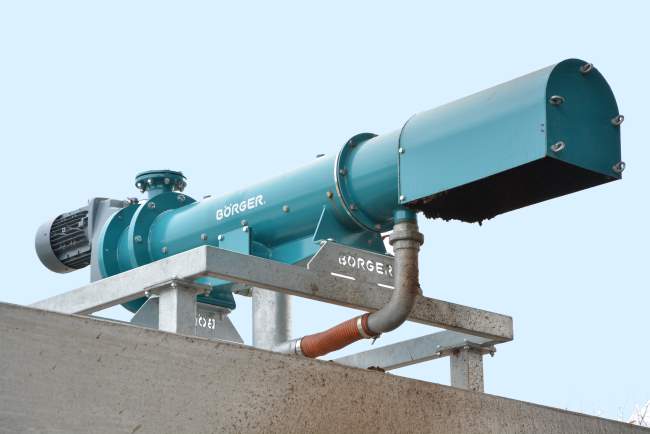 Agriculture Machinery Business Explains the Operation of the Borger Bioselect
The pump (1) extracts from a receptacle tank the suction-pressurized liquid to be separated and pumps this into the vessel-type Bioselect (2). Within this unit, the low-viscosity phase is separated from the solid matter, supported mechanically by the separating unit (3). By means of suction pressure generated by pump (1), the separated low-viscosity liquid travels through collecting space 4a, via the pressure connection line4b, to the transfer point and into the outgoing pipe for further utilization. The separating and clearing unit (3) carries the solid-phase in the direction of the viscous-matter pump(5). The pressure build-up of pump (1), in coordination with the pumping characteristics of pump (5), provides the required separating result. Using frequency-control, TS content levels between 10% and 25% dry matter can be achieved. The bioselect solid / liquid separation enables a thickening of the supply quantity, as desired, only to tank-truck-suitable reduction up to high TS-content stackable thick material phases. Analogous to the measurement units A to D, actual states are displayed manometrically. These values are managed and monitored in the switching system (7). According to the degree of thickening, the thick phase can be conveyed with pump (6) to another point, e.g. to a transport vehicle. via agriculturemachinerybusiness.com
Borger Bioselect is a Self-contained Separator Unit Says Doovi.com
Börger Bioselect Digestate Separator RC50 mobile manure separator and PL200 pump. System is fully self-contained by using its own motorized progressive cavity screw and is fully controlled by a PLC. A wide range of uses has been created by the rotation of a simple screw. The use of a buffer vessel, and a large discharge pump ensures successful pumping of the resulting liquid which can be pumped into a manure/ slurry tank, possibly over a large distance. via Doovi.com
Börger UK Limited
East Wing – Old School
Watling Street, Gailey
Staffordshire,
United Kingdom, ST19 5PR
+44 1902 798977
www.boerger.com