Digester Cleaning is fast becoming an established business sector within the Anaerobic digestion industry. In the UK half a dozen companies actively market their digester draining and sludge removal service specifically to the AD and biogas sector.
Why Clean A Digester?
The build-up of grit, sludge, and debris in digester tanks is all too often being found to negatively impact the operation of digesters, and severely reduce biogas yield
More and more clients are discovering the benefits of engaging digester cleaning contractors as more AD Plants and wastewater treatment facilities come on stream and existing plants age.
Early AD plant designers often paid too little attention to the build-up of unwanted materials in reactors, but now there are more powerful mixing systems that, to some extent can re-mobilise and re-suspend silty materials and reduce this problem. Nevertheless, occasional clay sludge removal and desilting will often still be needed.
Extending Digester Clean Out Intervals
The Landia GasMix is one such product that can reduce the build-up of unwanted materials.
Some digester designs now provide digester cleaning in that the digester tank is shaped like an inverted cone sloping to the base of these tanks. This allows grit and silt/ clay for gravity withdrawal of silt etc., from the tank base during normal digester operation.
When to Clean a Digester?
It's time to stop a biogas plant is when an accumulation of grit and debris (plastic film and packaging, rags, etc.) starts to harm a digester's performance by limiting its retention time and preventing the normal digestive process from taking place.
The sludge pumps that take the biosolids from the digester are frequently unable to remove this grit and debris. What can be removed is extremely hard on the existing pumping and heating equipment, resulting in greater maintenance expenses.
However, any digester that is consistently delivering less than the previous gas yield and all diagnostics and curative actions have failed is likely to benefit from sampling for the build-up of inert and unreactive reactor vessel content.
If on sampling significant non-reactive content is found, it's time to consider a complete tank cleanout.
When an unstoppable biogas output slowdown occurs due to non-reactive material in the vessel, immediate and thorough digester tank cleaning is required.
At this point, and assuming the presence of a good mixing system, the wise anaerobic digestion plant operator will seek to appoint a professional digester cleaning contractor to come and as rapidly as possible to clean out the problem digester tank or tanks.
This is a painful process for biogas plant operators, due to the inevitable lost production time and loss of revenue.
Some biogas plant operators have even decided to close their plants permanently. That's not necessary. Just ensure that before recommissioning you ensure that:
Digester loading includes pretreatment to remove unwanted materials, especially plastics before they are fed into the system. (A good depackager separator will help with this.)
The vessel is adequately mixed, by talking to a mixer system supplier of good repute.
What to Expect from a Specialist Biogas Reactor Cleaning Contractor
The best contractors which are experienced in cleaning digesters will provide:
… trained and experienced personnel …deployed with all of the necessary flushing, pumping, venting and safety equipment, to quickly and safely remove all organic and inorganic materials that interfere with the operation of the digester.

Using pressurized water they can remove, transport and dispose of residual solids. Remaining material is slurried into a semi-liquid form and easily removed and discharged using pumps that operate at up to 4,500 gpm.

They also have the capabilities and equipment to dewater the removed sludge, grit, trash and other material, allowing for landfill disposal. via Tank Cleaning Project – Specialized Maintenance Services
And, do it as quickly as possible once the build-up of unwanted material negatively affects proper operation.
Sludge Removal
The method(s) utilized for sludge removal varies from project to project and is dependent on the size and type of digester tanks, the tank shape, characteristics of the sludge and available disposal services options.
It is the duty of the plant owner that engages a cleaning services contractor to undertake any take cleaning project to ensure that the field crews are trained in proper confined space procedures and appropriate safety equipment and PPE is used during sludge removal.
No matter how advanced your digester is, it will eventually need to be cleaned. Otherwise, solids build-up and the efficiency levels go down.
Once municipal sludge holding tanks and industrial water and wastewater facility tanks are clogged up, it stops proper circulation from taking place and affects the performance of the system.
We recommend regular cleaning of your digester from top to bottom every 4 to 7 years. At the same time, it's an ideal time to inspect your digester system and tank to ensure everything is in proper working order.
All of this requires a high level of expertise from your cleaning services, extensive safety training, and of course, equipment that is designed to get the job done the right way.  Our team is trained in every aspect of the cleaning process from inspection to pumping, vacuuming, dewatering, and more. They use special, high powered vacuum trucks as well as mobile screening units to bring your digester system back to peak performance.
Digester cleaning requires the removal of heavy material (ie: the scum blanket and heavy build up) from the anaerobic digester tanks. via How do you clean digesters? –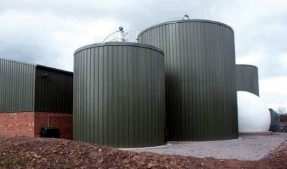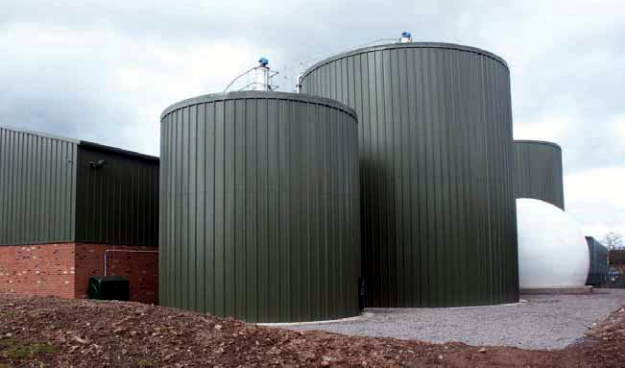 The Digester Cleaning Contractor will normally also be tasked with treating the water content of the digester or wastewater treatment facility. Therefore, all digester cleaning contractors worthy of the name nowadays, base their cleaning bids on using their own specialised dewatering and water treatment machinery.  The result is that they provide an indispensable service to biogas plant operators by bringing overloaded and even inoperable digester tanks back to full operating capacity.
So, we have said that:
Overloading, lack of adequate mixing, loss of gas recovery, or grit and trash, can cause a wastewater digester to slow-down and function at only a small percentage of its designed capacity, or not at all.
But this is not a reason to close down a biogas plant because highly trained and experienced personnel are available. These are trained specialists who can be deployed with all of the necessary equipment to quickly and safely remove all organic and inorganic materials that interfere with the operation of a digester.
Some also provide composting for the organic sludge, and indeed:
"All wastes generated as a result of our cleaning procedures can be delivered to our own EPA licensed composting facility, or any of the other number of facilities to where we deliver wastes." via AQS Environmental Solutions : Grit Removal from Tank Structures
Hydroblasting
Hydro-blasting is used when cleaning digesters and storage tanks to mobilise settled sludge, silt, and grit and to meet any of the Client's high-pressure application needs.
Emptying Anaerobic Digesters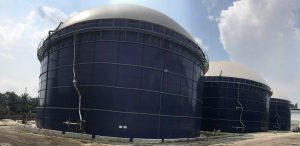 Is the removal of all unwanted material including bio-solids in the base of a biogas digester tank with the waste removal and disposal capabilities to handle any job.
Hydro Excavation
Hydro Excavation, is an effective alternative to digging out firmly compacted materials, where heavy machinery is not practical or to use it may even be unsafe
And Chemical Cleaning
Chemical Cleaning can be the most efficient, cost-effective method for cleaning sensitive contaminated surfaces or areas that are only accessible by flow, via Hydro Excavation | Industrial Chemical Cleaning …
Digester Cleaning is Often a Challenge to Achieve
In any digester cleaning project, the removal of residual sludge from digesters and other storage and process tanks can often be unexpectedly challenging. The material itself is often very dense and gritty with significant amounts of large debris.
The work environment is harsh and often requires confined space entry.
Successful completion of these types of projects requires a contractor specialised in handling challenges such as these. via Digester & Sludge Tank Cleaning | Burch Hydro Inc.
Finally, all digester cleaning projects hold plenty of potential hazards for injury or even death. All confined space entry, for example, will require to be done to the highest health and safety standards, to avoid either explosion or asphyxiation.
---
[Originally posted July 2017. Updated December 2021]