Farm Methane is a whole new subject in the US, especially in California. Renewable energy supporters would like to repeat the success of the pioneering dairy farm manure methane digesters in the US, especially California with its supportive state policies. That's because the methane from cow manure is being turned into electricity,  and a natural gas replacement in farm methane digesters. This holds great potential to help ameliorate (reduce) the worst effects of climate change.
It's renewable energy, and dairy farm methane production from farm agricultural waste, such as manure, is being used. But also, there are many other organic waste sources of farms which have scarcely been tapped at all for energy.
The feedstocks used for methane gas from cows used for energy, include waste whey from milk product manufacture, and crop residues left-over after the food has been harvested from it.
Watch the video below, which we made about this subject. For a change we used an animation format. Please comment on this new cartoon style. Did it improve your experience or not? Thanks for commenting!
Find out More at the Sustainable Conservation website here.
Watch this (Cow Power!) video on YouTube here.
1. Cow Power is Indisputably a Renewable (Alternate) Energy Source
Farm methane is a renewable energy source because it is a natural byproduct of animal manure. Animal manure if left to decompose will contribute carbon dioxide to the atmosphere within a short period and be recycled as part of the "carbon cycle" of all natural materials which grow and absorb carbon. Decomposition will occur naturally whereby the carbon continuously rotates through plant material and back again into the global atmosphere. Interposing a farm methane digester simply redirects the sun's energy, which is held for a short period in the plant biomass, so that it can be used by man.
2. The Most Common Form of US Farm Methane Digesters
The primary types of farm digesters are covered lagoon digesters, complete mix digesters for slurry manure, plug-flow digesters for dairy manure, and dry digesters for slurry manure and crop residues. In the US, including California, the most common commercial farm digesters are usually large circular concrete or steel tanks with heavy plastic membrane covers.
3. Income Generation Can Be Extended to Other Income Sources Once a Farm Methane Digester Goes Live
Don't assume that a manure fed farm methane digester won't be capable of generating more income than from the obvious sources which will most likely be built-in into the original business plan. States like California, Wisconsin, Massachusetts, Vermont and others with large dairy herds are already successfully incorporating a variety of feed-stocks into on-farm digesters originally just intended for cow slurry manure treatment, are led largely through matchups of university research and federal grants. (e.g. Vander Haak Dairy)
Some on-farm "Cow Power" digesters can also accept outside food waste as a feedstock. And, it is a fact that in general on-farm methane digesters can divert waste from landfills, provide a high quality fertiliser, improve soil quality, greatly reduce untreated farm waste, reduce the risk of watercourse pollution, and create renewable energy.
4. Diversity and Profitability Advantages Are Achievable for Farm Methane Digesters Even Without Government Subsidies
Global experience of Cow Power has long-since shown that farm digesters can be operated highly satisfactorily, by applying training and operational best practice, and have a very useful role on the farm.
5. Community AD Plants Can be an Option for Smaller Farms
Community and multiple farm digesters are a convenient alternative for farm owners whose dairy operations are too small to install an individual digester. By forming co-operatives groups of local farmers can join together to build and operate an AD plant which will provide income from product sales, and return to them a soil-improving fertiliser mix of both liquid and fibrous materials. Some UK biogas plant operators have reported that using their digestate as fertiliser was saving them 30% on their previous bought-in chemical fertiliser costs. That can be an amount saved in excess of $100,000 each year.
We hope that you found our "5 Things You should Know" useful reading.
---
The following is some more information on farm methane (also known as Cow Power) we found on the web:
Aliso Canyon Gas Leak Settlement Includes Program for Methane Gas Collection at Dairy Farms
The 2015 Aliso Canyon natural gas leak outside of Los Angeles was the largest in US history in terms of its environmental impact. An estimated 97,100 tonnes of methane 7,300 tonnes of ethane were released into the atmosphere.
SoCalGas, which operates the Aliso Canyon natural gas storage facility, was required to mitigate the climate impacts of the leak by funding projects that reduce methane emissions by an equivalent amount.
And now, some experts think dairy cows could be the answer for such mitigation.
Climate Clean Up
State and local officials reached a $119.5 million settlement with the Southern California Gas Company on Wednesday to mitigate climate impacts and address ongoing health concerns from the Aliso Canyon gas leak.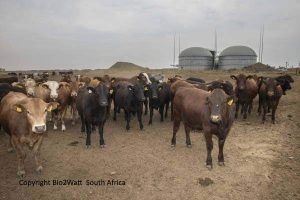 And, according to inside climatenews.org, the settlement includes a program to pay for methane gas collection at a dozen of the state's dairy farms. The site notes:
The dairy part of the settlement would address a substantial source of methane, a potent greenhouse gas that contributes to climate change. State officials say the plan would reduce by at least 109,000 metric tons the amount of methane that would otherwise be released into the atmosphere over a 10-year period.
That's the same amount that was released over several months following the Aliso Canyon gas leak.
The settlement still needs to be approved by the Los Angeles Superior Court. If it is, the settlement would ensure that methane is collected at 12 or more dairies in the area and fed into the state's natural gas pipeline. The gas will then be used as transportation fuel. via Aliso Canyon Gas Leak Settlement
Using Methane Power on a Dairy Farm
Cows may be a critical component of all dairy operations, but for one California farm, they're also the primary energy supplier. Straus Family Creamery in Marin County, California, transforms cow manure into electricity, turning one of its waste products into renewable energy. At standard dairy operations, cow manure releases methane, a greenhouse gas that's 30 times more potent than carbon dioxide as it breaks down.
Rather than releasing this gas into the atmosphere, dairy owner Albert Straus works to capture it and transform it into a versatile power source. This isn't a new development for the dairy. With the help of a methane digester, Straus has been generating electricity from manure for over 14 years, and he produces enough to power his entire farm.
Methane digesters such as the one Straus uses aren't cheap, but they have many benefits for farmers. For starters, they minimize the flies and odors that come from exposed manure, and they reduce fuel needs. Straus estimates that his setup saves 200 to 250 gallons of diesel fuel each month. Recently, he expanded the system to charge his electric truck as well. This means that the energy used to bring feed to the dairy comes from the cows themselves, by way of their manure. via MOTHER EARTH NEWS