AD Plant contractor and operator Weltec Biopower has stepped in to update and overhaul/ re-commission a failed Horse Manure Biogas Plant, which was a previously horse manure AD plant, located in North Germany.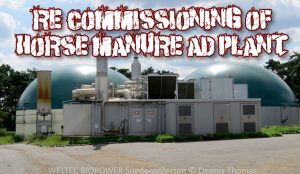 Although this is the first time that we have heard of a dedicated horse manure anaerobic digestion plant, although you can be certain that quite a number of AD plants accept horse manure as a feedstock, so it is not immediately clear why this project went into liquidation. Nevertheless, overcoming any existing technical problems with this digester, and creating a viable business operation at this biogas plant should be well within the abilities of Weltec.
Weltec has established over 300 energy plants in 25 countries worldwide. They speak of their global distribution and service network spaning six continents. The range of customers includes businesses from the agriculture, food, waste and wastewater industries.
Their Press Release follows:
WELTEC Group Takes Over 2.2-MW Horse Manure Biogas Plant in North Germany with Rapid Modernisation and Re-Commissioning Planned
As of 1 August 2018, Nordmethan GmbH, a company of the WELTEC BIOPOWER Group, has taken over an insolvent horse manure biogas plant in Südergellersen, Lower Saxony. The German specialist for the development and operation of bio-methane and biogas plants will fully modernise the technical and operational overall concept of the 2.2-Megawatt plant.
The project development work is currently under way.
"Following a takeover negotiation process of about two years, we will speedily modernise the AD plant technology in order to ensure its going concern"
, said Jens Albartus, Director of WELTEC BIOPOWER and Nordmethan.
The original plant had been set up in 2009 and expanded in 2014. The operator's concept was based on the digestion of horse manure and sale of the digestate as fertiliser pellets. However, as the concept turned out to be technically difficult and economically unfeasible, the plant went bankrupt.
Following the takeover by the WELTEC Group, the substrate input is now being adjusted, and the plant technology is being modernised.
Henceforth, the two digesters with a capacity of 3,000 m3 each will be largely fed with renewable raw materials and horse manure from local suppliers within a range of less than 15 km. The generated biogas will be used to run two cogeneration power plants with an electrical output of 1.1 MW each. Nordmethan will supply the power to the public power grid.
Part of the exhaust heat from the cogeneration is to be used for drying the digestate.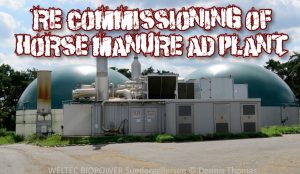 Initially, extensive upgrade and repair work will be performed to ensure profitable operation of the biogas plant: Among other things, the investments of the WELTEC Group comprise modernisation work on the two cogeneration power plants and the solid matter input systems.
'Additionally, we will install two digestate storage units and two digestate dryers. By equipping the biogas plant with modern control technology and a drive-in silo system, we will ensure flexibility for all requirements"
, says Jens Albartus, explaining the background of the conversion measures.
In view of this general overhaul, Jens Albartus is highly optimistic about the future economic success of the 2.2-MW plant. Thanks to its strong service department and the experience gained in building more than 300 biogas plants around the globe, the WELTEC Group is well prepared for such projects.
In Südergellersen, the company's expertise will make sure that the plant operation can react in a flexible way to all future challenges.
Read more from Weltec here.
---
Other Examples of Horse Manure Biogas Plants Around the World
Horse manure biogas to light up streets at hill station
Oct 28, 2017: In a first-of-its-kind initiative, the Matheran Hill Station Municipal council will have a horse maure (dung-based) biogas plant. A trial to produce biogas from horse dung was found successful by Bhabha Atomic Research Centre (BARC). BARC will provide the technology for the 2MT capacity plant to be set up near a horse stable. The power generated from the plant will light up streetlights.There are around 460 horses and ponies in the hill station
MUMBAI: In a first-of-its-kind initiative, the Matheran Hill Station Municipal council will have a horse manure biogas plant. via biogas to light up streets
South Africa: Uses Horse Manure Biogas Plant to Turn Waste Into Power
Tiepelt's home apparatus cost about $5,000. He powers it with horse manure from a nearby farm. Unlike the wastewater plant, he does not use his biogas to generate much electricity. His apparatus generates enough horse manure biogas to power a stove, a water heater and … via South Africa: Nation Uses Biogas
Villagers in China Biogas Digester – development and environment
KUNMING, June 4 (Xinhua) — As it works to transform itself into a tourist destination, a village on Lake Lashi in southwest China's Yunnan Province is learning the importance of environmental protection.
Eight kilometers away from the tourist city of Lijiang, Xia Zhongyi and other residents of Haidong Village set their sights on tourism in 2004. Six years later a wetland conservation area was set up on the lake and the income of villagers is now more than ten times that of five years ago.
The problems of Lake Lashi are an example of the price the rural Chinese are beginning pay for a previous lack of environmental awareness nationwide.
Luckily, the government, NGOs and volunteers already have all hands on deck to educate the public about the importance of caring for their surroundings.
The GEC and local government have distributed 90,000 flyers to tourists and residents of Lijiang, asking them not to litter. Meanwhile, volunteers have begun to collect horse manure and put it into a biogas digester. via China: Villagers