Fish Silage is in the news today, as Danish company announces a rising demand for their Landia Fish ensiling process equipment.
If, like us, you had not heard of fish silage before, let us explain. It is defined as a liquid made from whole fish or parts of fish that are liquefied by the action of enzymes. These are in the fish in the presence of an acid which is added.
"The enzymes break down fish proteins into smaller soluble units, and the acid helps to speed up their activity while preventing bacterial spoilage." via FOA.org
There is a point to make about anaerobic digestion and biogas, because ensiled fish can used as an AD plant feedstock.
---
Landia Press Release:
Demand for Fish Ensiling as By-product Value Increases
With local technical back-up at hand, the aquaculture industry is now more focused than ever before on biosecurity and the increasing value of by-products.
According to long-established pump and mixer manufacturer Landia (formed in 1933), an ensiling process – which uses formic acid to produce fish silage from fish by-products – is proving the most effective method of killing bacteria to eliminate the risk of infection from fish that don't survive rearing facilities.
Jesper Borch Svendsen from Landia commented:
"Today's breeders are far more likely to install an ensiling unit (buffer tank), which will then make it possible for the end-product to be used, for example, as a key health-boosting ingredient for pet food. In some cases, a pasteurization stage (tank) can be added so that fish waste can also be used as a fertilizer or fuel for a biogas plant".
He added:
"The technology isn't complicated but based on the large volume of new enquiries and orders we've already received this year, back-up is priceless. Things can and do require maintenance or adjustment. Nobody wants downtime. It is far too costly. We've met several companies in the aquaculture industry who have been let down waiting for new parts – and worse, a very indifferent attitude from their supplier, which is quite astounding".
Svendsen highlighted a recent installation by Landia on one of the islands in Scotland's Outer Hebrides, where large volumes of waste salmon can now be used for biogas because they are being pasteurized for an hour at 70 degrees C to meet UK regulations.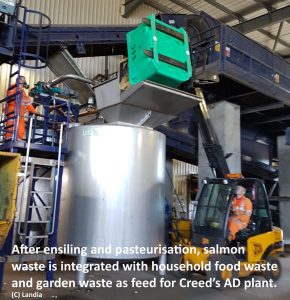 He continued:
"The process has proved very successful, creating a win-win partnership for the local fish businesses and for the island's biogas plant, but it is fair to say that without the ongoing help from us as supplier, it may not have accelerated as much as it has. We all need advice and hands-on help from time to time".
Previous Landia Fish Silage Projects
Landia recently delivered a new ensiling unit to P/F Luna in the Faroe Islands. To withstand the acidic environment, all pump parts that are in direct contact with the salmon waste were produced in acid-proof stainless steel. The unit was also supplied with a system to control the acid application rate to ensure the correct balance in the tank.
See more on Landia's website here.
PR ends
---
More About Fish Silage
Acid ensilage method
Acid fish silage is made from by-catch or fish wastes, which are preferably chopped or ground, placed in non-metallic vats (tanks or tubs which hold liquids), mixed with an acid solution and stirred several times daily for 3 to 5 days. The acid lowers pH and prevents bacterial putrefaction, which allows the silage to be stored for a longer period. Propionic and formic acids, and mineral acids, such as sulphuric or hydrochloric acids can be used. This method mainly inhibits bacterial growth, prevent spoilage, and speeds up the breakdown of tissue proteins.
Fermentation method
The method is similar to acid ensilage; in this method, preservation is the result of acidity arising from the growth of lactic acid-producing bacteria. Following chopping of the by-catch or fish wastes, the products are mixed with a carbohydrate source in non-metallic vats, and mixed with a carbohydrate source before storing in airtight conditions. Lactic acid bacteria ensures proper fermentation and reduced spoilage.
For both methods the following applies: to prevent oxidation and rancidity, an antioxidant may be added at the time of ensiling; ethoxyquin or butylated hydroxytoluene (BHT) at 150-200 ppm are commonly used as antioxidants.
Advantages of using fish silage
In brief, fish silage has been shown to have some desirable attributes. According to a leading study by K.A. Winter and L.A.W. Feltham of the Memorial University of Newfoundland, Canada back in 1983, fish silage is made mainly for the following reasons: via Nutritional value to pigs
Full Steam Ahead For Faroe Trawler Fish Silage With Landia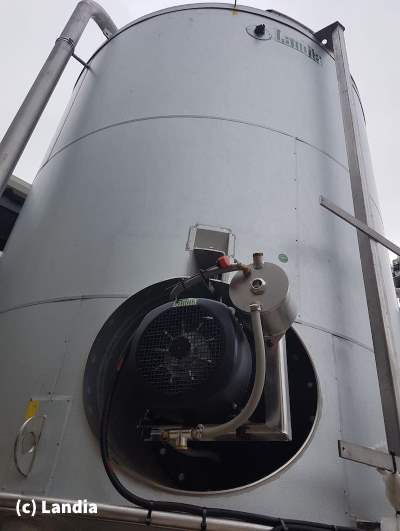 Landia has supplied chopper pumps and a mixer for a new, integrated Faroe Islands factory trawler.
The new system allows the trawler to produce large volumes of fish silage.
Landia, who will be on stand number 337 at Aquaculture UK in Aviemore, Scotland, delivered three stainless submersible chopper pumps that will chop the bi-products, whilst the mixer (also stainless steel) will ensure that the processed silage stays homogenous in the tanks.
One of the chopper pumps, which was supplied as a high-pressure pump, will also make unloading of the finished fish silage a quick and simple process.
In addition to its acclaimed pumps and mixers, Landia also recently supplied pasteurisation equipment for fish morts that will be utilised as feedstock for an expanding AD plant.
The 8m3 pasteuriser, which is fitted with Landia's side-entry propeller mixer and equally robust dry-installed chopper pump, processes the fish morts in accordance with ABP (Animal By-Products) regulations, fully approved by vets.
A 10m3 ensiling tank with an 18.5kW stainless steel long shaft chopper pump, recirculates and blends the fish morts into a smooth purée, before being discharged into the pasteuriser.
With the fish morts suitably mixed, pumped and pasteurised at 70 degrees Celcius by the Landia equipment, gas yields are forecast to increase significantly at the AD plant. via Full Steam Ahead For Faroe Trawler