Vale Green Energy joins the list of sites which have achieved AD Certification Scheme Accreditation. It has shown its intent to apply the high standard of AD plant operation that the AD industry considers good practice within their industry. ADBA members devised the scheme with a mission to raise the whole industry to those of the most advanced operators.
According to industry experts, the cost of participating in this scheme will quickly pay for itself by avoiding costly operational errors, and an immediate benefit for those that gain AD Certification Scheme Accreditation is likely to be reduced insurance costs.
Vale Green Energy is part of a growing trend.
REPowerEU Plan – Chart Shows Massive Investment in Biomethane Across Europe
Investing in biogas to biomethane is to grow rapidly. The REPowerEU Plan has been devised by the EU to extricate Europe from dependency on high natural gas prices and especially Russian natural gas dependency.
They claim that it will: "…rapidly reduce Europe's dependence on Russian fossil fuels by fast-forwarding the clean energy transition and adapting each nation's industry and infrastructure to different energy sources and suppliers".
The remarkable point in all this is that investment in fossil fuel infrastructure has almost fallen off the map in their predicted spend chart below. If they are correct, forward-thinking companies in the biomethane sector are in for a period of great expansion.
Meanwhile, there is a predicted €37 billion shown for biomethane production.
---
ADBA Press Release 20 May 2022:
Vale Green Energy anaerobic digestion plant secures certification scheme accreditation
The Rotherdale Farm anaerobic digestion (AD) plant operated by Vale Green Energy near Pershore, Worcestershire, has achieved accreditation under the AD Certification Scheme (ADCS). Run by the Anaerobic Digestion and Bioresources Association (ADBA), ADCS recognises efficiency, best practice, and professionalism in AD operations.
This latest ADCS success reflects the momentum being gained in the delivery of certification coming shortly after that of Adapt Biogas's Murrow Plant and, pre-Covid hiatus, Andigestion's Holsworthy site. Several other plants are currently undergoing the auditing process and will hopefully soon receive recognition for applying good health and safety, environmental and operational practice on their site.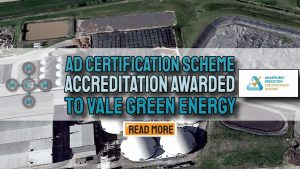 Rotherdale No. 2 was designed and built in-house in 2015. Rotherdale Farm is a 4.5mw biomethane gas to grid energy crop fed AD plant, feeding approx. 75,000 tonnes per year with crops from its own 4500-acre farm and local growers under contract. The site also includes a 90 acre 19.5mw solar farm providing power to the AD plant and for export.
The site uses a 1800Nm3 Pentair Haffmans membrane biomethane upgrading plant injecting approx. 930Nm3/h of upgraded biomethane into the Wales and West gas network.
The CO2 separated from the biogas is captured at approx. 1 ton/hour and liquified as food-grade CO2 used in the drinks industry. The site also has two 500kw Janbacher CHP engines:
one to provide heat and power to the AD plant and
the other to provide heat and power to a neighbouring poultry farm.

Rotherdale is one of two AD plants operated by Vale Green Energy. The company plans to submit their other site, Springhill Farm, also located near Pershore, to the ADCS accreditation process.
"Best practice and striving for excellence have always been the objectives of Vale Green Energy," explains Guy Mills, Operations Manager at Vale Green Energy. "The ADCS accreditation for Rotherdale highlights our professionalism as an AD operator and our commitment to operate to the high standards set by our own industry."
Josh Henthorne, Technical Support Manager at ADBA, said: "It's great to see Vale Green Energy taking proactive measures to ensure they implement best practices and regulatory compliance throughout their operations.
The AD Certification Scheme Accreditation demonstrates a commitment to:
reducing health and safety, and environmental risks,
while maximising operational performance.
The ADCS accreditation will set Vale Green Energy up for continuing to apply high standards and we are pleased their second site will also be going through to accreditation."
– PRESS RELEASE ENDS –