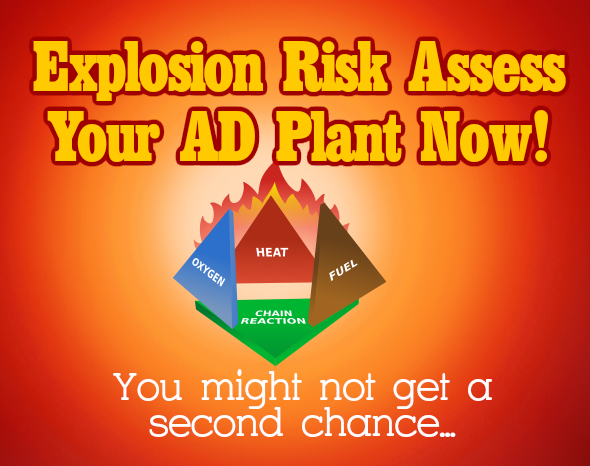 Nobody was hurt by this biogas explosion, thankfully. However, this does serve to emphasize that these very real risks that exist in anaerobic digestion.
Plastic membrane covers are normally comparably safe as they tend to deflate in the event of a small gas leak, and don't provide a rigid void with part air and part methane present, which is of course much more likely to become an explosive mixture of methane and air within, what are called "the explosive limits!".
A little bit of gas in air will burn and not explode, equally a methane filled space containing no oxygen will not explode, rather it would put out a flame. In between these concentrations there is the explosive zone. In Europe a set of regulations known as the ATEX Regs. applies to assessing and managing explosion risks of this sort.
"EPDM" (ethylene propylene diene monomer (M-class) rubber), is the extremely durable synthetic rubber roofing membrane which is used to cover biogas tanks.
Now having given you the background, the original article link, and our extract from the article follows:
"The chances of an anaerobic digester exploding are slim to none. But that's exactly what happened at Tim Bielenberg's Oak Lea Farm in Aumsville, Ore. "I don't …www.tpomag.com/…/epdm_failure_causes_anaerobic_digester…"
http://www.tpomag.com/online_exclusives/2013/03/epdm_failure_causes_anaerobic_digester_explosion
"The gas that was in that headspace combusted rather than going down the gas train to the engine or any other location. During that process, you have to have the exact combination of ambient air and methane for it to be combustible. It came in contact with some ignition source."

Fortunately, the system operated as designed so it began to shut itself down after the dramatic change in gas pressure and flame arrestors on the biogas train also proved effective. The minor damage was only above the rim of both tanks, and no one was hurt in the explosion. While the chances of this happening again are rare, RES has taken steps to prevent  "There are tremendous ground fields around the engine and the interconnection," says Tank. "We ground the tanks, and we now apply a ground application to the EPDM as well."