Any anaerobic digester plant explosion is one too many. Read on to discover a number of incidents that have shown the explosive potential in which the methane in AD Plants can unleash when least expected.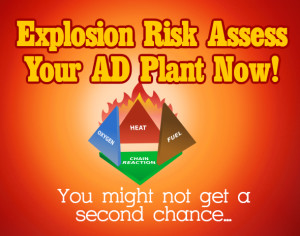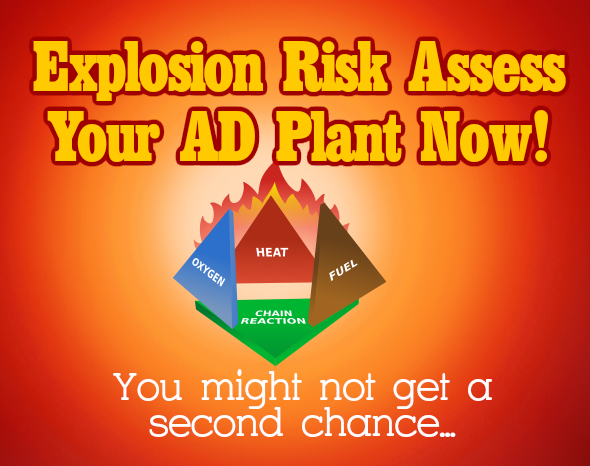 Thankfully nobody was hurt in the following biogas explosions until now. But in December 2020 witnessed a tragic 4 deaths in the UK at one incident. The following news serves to emphasize that very real risks exist in anaerobic digestion and biogas production.
A little bit of gas in the air will burn and not explode, equally a methane filled space containing no oxygen will not explode, rather it would put out a flame.
But, between these concentrations, there is the danger of an explosive zone. An explosion can easily cause death.
In Europe a set of regulations known as the ATEX Regs. applies to assess and manage explosion risks of this sort.
In the UK the ATEX Regs. are applied under the Dangerous Substances and Explosive Atmospheres (DSEA) Regulations*. All biogas plants must comply with those regulations. (* Equivalent Regs apply in Scotland, Northern Ireland, and Ireland) 
---
December 2020 Update:
Avonmouth explosion: Investigation after four killed in blast
A tragic accident occurred at a wastewater treatment works on 4 December 2020 at a Wessex Water sewage sludge treatment facility near Avonmouth.
Investigations are continuing into what caused an explosion at a wastewater treatment works that killed four people.
[Permission to use the BBC image of the damaged biogas digester tank has been requested.]
Three employees of Wessex Water and a contractor were killed in the blast at a water recycling centre in Kings Weston Lane, Avonmouth, on Thursday.
This news is particularly distressing given that for more than 15 years now the DSEA Regulations have been in force. The risks are well-known and the regulations should, if correctly applied and enforced by the HSE, ensure that all those operating any facility of this type carry out a formal risk assessment (RA).
Once the RA has been done, procedures must be put in place and responsible staff allocated the duty of ensuring that only those people fully informed and trained in these risks are allowed to make access to the Risk Assessed areas.
The BBC News article can be viewed here.
---
May 2020 Update: There have been some notable biomass digester explosions recently in the US, which we have updated this page to cover. In the case of the first, it is not clear what caused the explosion, and whether the incident involved methane gas in some way, this being the number one cause of anaerobic digestion plant explosions.
Maine Paper mill is back in business after dramatic pulp digester explosion
JAY, Maine (AP) 23 April 2020 — A paper mill disabled by a dramatic explosion caught on video last week has resumed production with two of its three paper machines, officials said Thursday.
The restart of Pixelle Specialty Solutions' Androscoggin Mill in Jay followed a blast that happened in a large, kettle-like digester in which a slurry of wood chips, water, and chemicals is transformed into pulp. An assessment of what caused the rupture continues.
The two paper machines, which restarted Wednesday, are using pulp produced at other Pixelle mills in Ohio and Pennsylvania, and supplemented by purchases from others, the company said.
The Spring Grove, Pennsylvania-based company is assessing options for long-term pulp production at the plant.
Tim Hess, Pixelle's president, and CEO said Thursday he was thankful that no one was hurt and that there was no environmental damage. Workers managed to safely shut down the mill to prevent further damage, he said. via apnews.com
A massive mill explosion sent debris into the air Wednesday in Jay, Maine.
The cause of the above Anaerobic Digester Plant Explosion in Maine will not be known until investigations have been completed. But a UK Anaerobic Digestion Plant (so-called) explosion has been more fully reported:
Harper Adams Anaerobic Digester Explosion
JUNE 2014: An eco-friendly power station suddenly exploded this morning showering the surrounding area with hundreds of tonnes of stinking cow dung.
The blow out in a slurry processing tank happened in the early hours at the plant outside Harper Adams University near Newport in Shropshire.
Onlookers said one side of the 30ft tall corrugated metal building was completely torn off while the roof and supporting wall collapsed.
Thousands of gallons of slurry spilled into a nearby farm flooding one road and leaving several fields waterlogged.
Fire crews and police arrived at the scene at 10am and sealed off the scene with tape while the buildings were inspected.
Environment Agency officials spent the day at the site assessing the damage and working to minimise the effect on the environment. via www.dailymail.co.uk
Again, thankfully, nobody was injured, and the author of this article believes that this was not correctly described as an explosion. It was an implosion caused by a pump system operational error.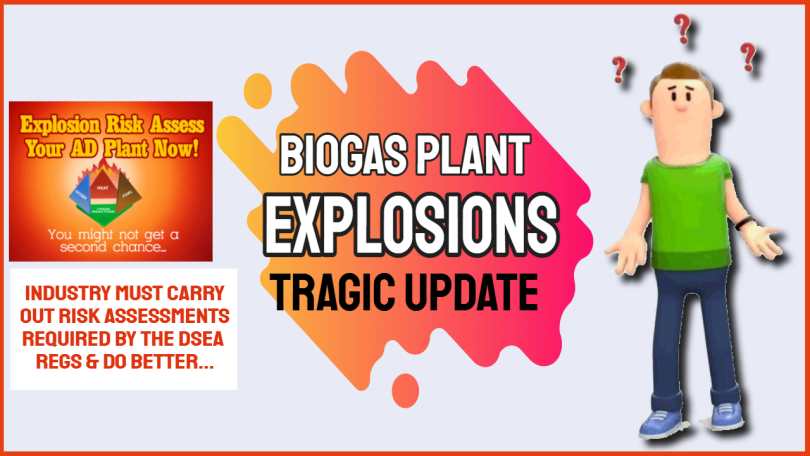 Digester Explosion Pensacola
As International Paper's Cantonment mill resumed full operations this week, the company has released more details about the 22 January 2017 explosion.
Spokeswoman Janice Holmes said Tuesday that the mill experienced a power failure the day before the explosion because of an electrical fault in the power distribution system. The power failure forced the mill out of operation, which caused gas to build up in an on-site pulp digester. That is what officials believe ultimately caused the explosion.
The company's preliminary findings released March 9 show that when the digester was out of operation for an extended period of time, the gases built up and created an "explosive atmosphere." Again, there were not any employee injuries at this Anaerobic Digester Plant Explosion. via www.northescambia.com (Kamyr digester explosion)
---
Explanation of the following very unusual biogas digester explosion:
The membrane referred to below is "EPDM" (ethylene propylene diene monomer (M-class) rubber), is the extremely durable synthetic rubber roofing membrane which is used to cover biogas tanks.
Now having given you the background, our extract from the article about this anaerobic digestion plant explosion follows:
---
EPDM Failure Causes Anaerobic Digester Explosion
(March 2013) The chances of an anaerobic digester exploding are slim to none. But that's exactly what happened at Tim Bielenberg's Oak Lea Farm in Aumsville, Ore. via www.tpomag.com
"The gas that was in that head-space combusted rather than going down the gas train to the engine or any other location. During that process, you have to have the exact combination of ambient air and methane for it to be combustible. It came in contact with some ignition source."

"Fortunately, the system operated as designed so it began to shut itself down after the dramatic change in gas pressure and flame arrestors on the biogas train also proved effective."
The minor damage was only above the rim of both tanks, and no one was hurt in this  anaerobic digester plant explosion. While the chances of this happening again are rare, RES has taken steps to prevent any recurrence.
"There are tremendous ground fields around the engine and the interconnection,"
says Tank.
"We ground the tanks, and we now apply a ground application to the EPDM as well."
---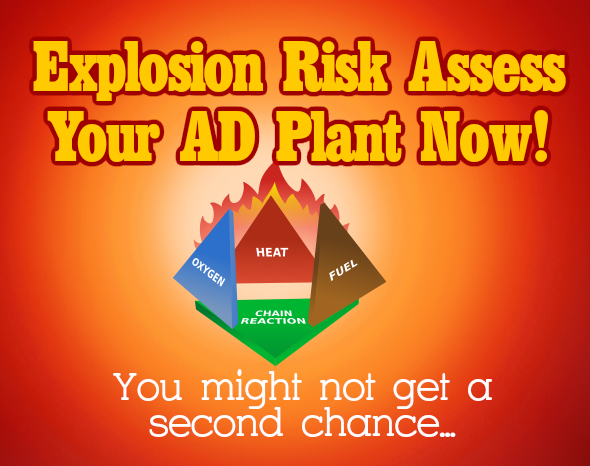 The risks at biogas facilities include, for example:
Fire and explosion
Confined space hazards
Risk of Asphyxiation Risk of gas poisoning (H2S, NH3)
Risk of high-pressure gas or liquid leaks
Risks associated with rotating mechanical equipment Risks associated with pathogens (diseases)
Our Opinion
Plastic membrane covers are normally safe as they tend to deflate in the event of a small gas leak. In addition they don't provide a rigid void with part air and part methane present, which is of course much more likely to become an explosive mixture of methane and air within, what are called "the explosive limits!"
Risks and safety measures for anaerobic digestion: How can you make your plant safer?
All UK AD Plants should have completed an ATEX Risk Assessment of their specific site explosion hazards and taken action to ensure that their AD facility meets all legal UK requirements. Similar requirements may exist outside the UK – Check this with your regulatory authorities.
---
Other Notable AD Plant Explosions
Anaerobic Digestion Plant Explosion Caught on Film
---
A US Digester Plant Explosion Took Place Back in 1987
On February 6, 1987, two workers at a wastewater treatment plant were re-draining a sewage digester when an explosion lifted the 30-ton floating cover, killing both workers instantly. via www.cdc.gov
Sewage Biogas Plant Biogas Explosion in Madison US in 2016
The day of October 16, 2016 in Madison, Wisconsin began with thunder and lightning. As the employees of Madison Metropolitan Sewerage District arrived at work, lightning struck the fiberglass enclosure of their pressure regulator and flame-arrestor on top of the digester. A fire was sparked and quickly grew with heat intense enough to melt the lead weights in the pressure regulator. This whole time the digester was operating and generating highly flammable methane gas.
Employees were evacuating the area as the fire was extinguished, but the big event they were all bracing for never happened. There was no explosion! So many anaerobic treatment facilities have had explosions in nearly the same situation.
Fires and explosions associated with anaerobic digesters and methane storage systems are more common than people realize, mostly because of widespread under-reporting. This is especially true in "near miss" situations, where there is no human injury or death. via teamaquafix.com
---
Explosion and Fire at the Southwest Wastewater Treatment Plant in Springfield, MO, US
Two contract workers were injured after an explosion and fire Monday at the Southwest Wastewater Treatment Plant in Springfield, MO, the Springfield Fire Department said in a release. Fire crews responded to the municipal facility at about 4 p.m. Describing the incident as a "low order explosion with flash fire," officials said a digester tank at the facility received damages and partially collapsed.
A group of three contractors were reportedly performing work on the digester tank at the city-owned facility when the explosion and fire occurred.
"They were working on the roof of this digester that had been emptied out," Springfield Fire Battalion Chief, Heith Aldridge, told the Springfield News-Leader. "Apparently, there was a pocket of methane gas that was enough that, while they were working, it caught fire."
The blast prompted the workers to jump from the top of the 15-ft tank. Two of the contractors received non-life-threatening injuries and were transported to an area hospital for treatment. via www.powderbulksolids.com
European Anaerobic Digestion Biogas Accidents
In Europe, there were about 800 accidents on biogas plants between 2005 and 2015. Fortunately, less than a dozen of them had consequences on humans. Here are some examples.
In 2018, an explosion followed by a fire occurred at the level of the gasometer in the post-digestor of the farm plant in Saint-Fargeau, France. The accident happens during the initial test for the operation of the agitator when its propeller was replaced.
In 2005, a large quantity of H2S leaks in the charging hall of the biogas plant of Rhadereistedt, Germany. The workers don't follow the procedure to discharge the truck because of a breakdown of the lid covering the tank. The tank containing animal and dairy waste is left open. via www.biogasworld.com
Conclusion
Biogas risks include explosion, asphyxiation, and also on occasions also disease, and hydrogen sulfide poisoning.
Extreme caution is necessary when working with biogas. Adequate ventilation, appropriate precautions, good work practices, engineering controls, and adequate personal protective equipment will minimize the dangers associated with biogas.
Wherever possible, digester-associated tasks and maintenance should be performed without anyone having to enter confined spaces, including pits.
Systems should be initially designed so that confined space entry is not required to perform maintenance. via farm-energy.extension.org
---
Above all the Uk DSEA Regulations require a Risk Assessment to be undertaken for all facilities where a risk of explosion is possible. Biogas Plant Owners and Operators are not operating legally unless they apply the the DSEA Regulations. Similar regulations apply to the other UK nations and throughout the EU, under the ATEX Directives.
Click Here for Advice on ATEX and DSEA Regulations compliance