We were asking ourselves, where is there any news on the development of Anaerobic Digestion in South Africa? For anyone familiar with the country it must be undeniable that they have vast untapped renewable resources in all forms of renewable energy, with the clear exception of hydro-power in such a dry country. We did our research and found very little news about Anaerobic Digestion in South Africa.
In eThekwini there was an anaerobic digestion pilot plant trial, but that was back in 2016! (See below.) And, in 2015, there was news of the Bio2Watt anaerobic digestion plant, enabling BMW's Rosslyn plant to receive nearly a third of its electricity requirements from renewable sources.
So what could be holding that nation back?
The evidence is in: Renewable energy is viable, reliable, and ready to go – all that's missing is the political will to kick start an energy revolution in South Africa.
Right now, renewable energy is actually already cheaper than coal and nuclear power at every step.
A unit of electricity from Eskom's new coal plants cost about R0,80/kWh, from nuclear R1,00/kWh while a unit of electricity from solar photovoltaic cost R0,80/kWh and from wind only R0,60/kWh.
In addition, there are no input costs for wind and solar energy [and the anaerobic digestion of waste biomass. So for example, while one needs to buy coal for a coal-fired power plant to generate electricity (and coal mining itself has massive environmental costs), solar and wind energy don't have input costs like that – sunlight and wind are free.
Besides, the latest Greenpeace (SA) report shows that there could be about 7.6 millions jobs in Africa by 2020 in the renewable energy sector and about 10 millions by 2030. via Renewable Energy Myths
SA Falling Behind on Renewable Energy
May 2018: South Africa is falling behind on renewable energy project implementation, even as other nations accelerate their plans for green energy.
According to data from Greenbyte, a renewable energy management systems manufacturer, SA lags far behind fellow BRICS country China which has 188 232MW (megawatts) of wind power capacity and 106 921MW of solar energy capacity.
SA has just 2 094MW of wind and 1 450MW of solar capacity.
Environmental activist organisation Greenpeace said the problem lay with renewable energy policy implementation.
"We have been stuck in a black hole for over two years while Eskom refused to sign the power purchase agreements for the recently approved 27 renewable energy independent power producer (IPP) projects, which has created massive policy uncertainty in the renewable energy space,"
said Nhlanhla Sibisi, Greenpeace Africa Climate and Energy campaigner for Anaerobic Digestion in South Africa.
"The utility was effectively holding the country to ransom, and national government did not intervene to ensure that the renewable energy projects went ahead. Added to this, the lack of an incentivising framework for rooftop solar and Eskom's own lack of investment in renewable energy have created a significant under-investment in renewable energy,"
Sibisi said.
We called this Anaerobic Digestion in South Africa, but some readers will be more familiar with the following terminology: Some people would refer to biodigesters South Africa, others would classify this topic as being connected with "waste to energy in South Africa, and of course biogas plants are also no doubt, referred to as "waste to energy plant in South Africa".
Here in the following paragraphs we provide excerpts from the (rather old) news about Anaerobic Digestion in South Africa, which we found.
eThekwini digestion pilot plant in trial (2016)
Resource management company Veolia Water Technologies completed the installation of an anaerobic digestion pilot plant, which was erected at eThekwini Water & Sanitation's Southern Wastewater Treatment Plant in Merebank, Durban, in the first quarter of this year.
The trial project, which was commissioned and optimised by Veolia, aims to generate biogas from the current wastewater feeds at the plant. Veolia has noted that the pilot trial is designed to test the digestibility of the domestic and industrial waste received by the plant. via eThekwini digestion pilot plant in trial
Behind-the-scenes look at the BMW Bio2Watt biogas plant (in 2015)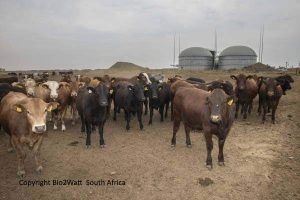 BMW South Africa recently announced it had started using green energy at its Rosslyn plant in Pretoria.
The announcement followed an agreement with Bio2Watt, enabling BMW's Rosslyn plant to receive 25% to 30% of its electricity requirements from renewable sources.
The BMW South Africa/Bio2Watt renewable energy partnership is the first commercially-viable biogas project in SA.
The Bio2Watt biogas plant in Bronkhorstspruit is located on the premises of one of South Africa's larger feedlots – Beefcor.
The location provides the project with proximity to key fuel supplies; grid access; and a sufficient water supply from Beefcor's storm water collection dams.
The biogas process relies on organic waste, which is directed into a digester where biogas is produced. This gas is then used to produce electricity, which is inserted into the power grid for uptake by power purchasers like BMW.
At the Bronkhorstspruit biogas plant, about 40,000 tons of cattle manure and 20,000 tons of mixed organic waste is fed annually into two anaerobic digesters that produce biogas.
The Bio2Watt plant in Bronkhorstpruit has the capacity to generate 4.4MW, and Bio2Watt [said in 2015 that it was] establishing more anaerobic digestion projects in South Africa.  via BehindBMWBio2Watt
The lack of anaerobic digestion facilities in South Africa, is even more surprising when you consider the following:
The Huge Hidden Costs of Coal and Nuclear Especially when Compared with Anaerobic Digestion in South Africa
Market price aside, coal and nuclear power have huge hidden costs that aren't included in the price that you and I pay for electricity.
For instance, Eskom is currently building the Kusile coal-fired power plant, and it's estimated that the coal plant will cause damage of up to R60 billion for every year it operates. We're talking the costs of water pollution, human health impacts, the plant's huge water footprint, and climate change.
These massive costs aren't taken into account when the price of coal power is calculated — but they are still very real! via Renewable Energy Myths
South African Biogas Basics – Presentation by Mark Tiepelt on Biogas Basics in SA.
Conclusion – South Africa has real bio-energy potential
"South Africa definitely has exploitable bio-energy potential,"
stated Council for Scientific and Industrial Research principal engineer Crescent Mushwana at the launch of the South Africa Bio-energy Atlas in Pretoria recently.
"Bio-energy is feasible from organic waste, residues from forestry and agriculture [lignocellulose], and eradication of alien invasive plants."

"These all amount to 'low-hanging fruits'. "

"The economic viability of biofuels from purposely cultivated crops is currently negatively affected by the low price of oil."
Organic wastes are turned into biogas using simple devices called digesters.
Basically, these are air-tight containers in which a biological process called anaerobic digestion takes place. Ideally, the temperature has to be controlled for optimal efficiency. The result is a mixture of methane (the major part) and carbon dioxide gas. The methane can be used as fuel to generate electricity. The residues can be used as fertiliser.
"Organic waste looks like a [low-cost] winner in all cases."
"Lignocellulose is a very important factor we should look at,"
he points out.
"In the short term there is potential for what can be done with existing operations."
This could include co-located electricity generation at sawmills and sugar mills.
"Compared to [other] renewable energy programmes, there is space for these [bio-energy] technologies to play. Definitely for lignocellulose and biogas from digesters",
assures Mushwana. These two technologies are both cost-competitive for Anaerobic Digestion in South Africa.
"Definitely, there is potential." via SAbio-energy