The first Isle of Wight Biogas Plant was in the news in 2015 when Wight Farm Energy and Schmack Biogas combined their international expertise with local knowledge to build and commission the first IoW biogas plant. Now there will be a second Anaerobic Digestion Facility on the UK holiday and sailing Island.
Here is our IoW update for 2021: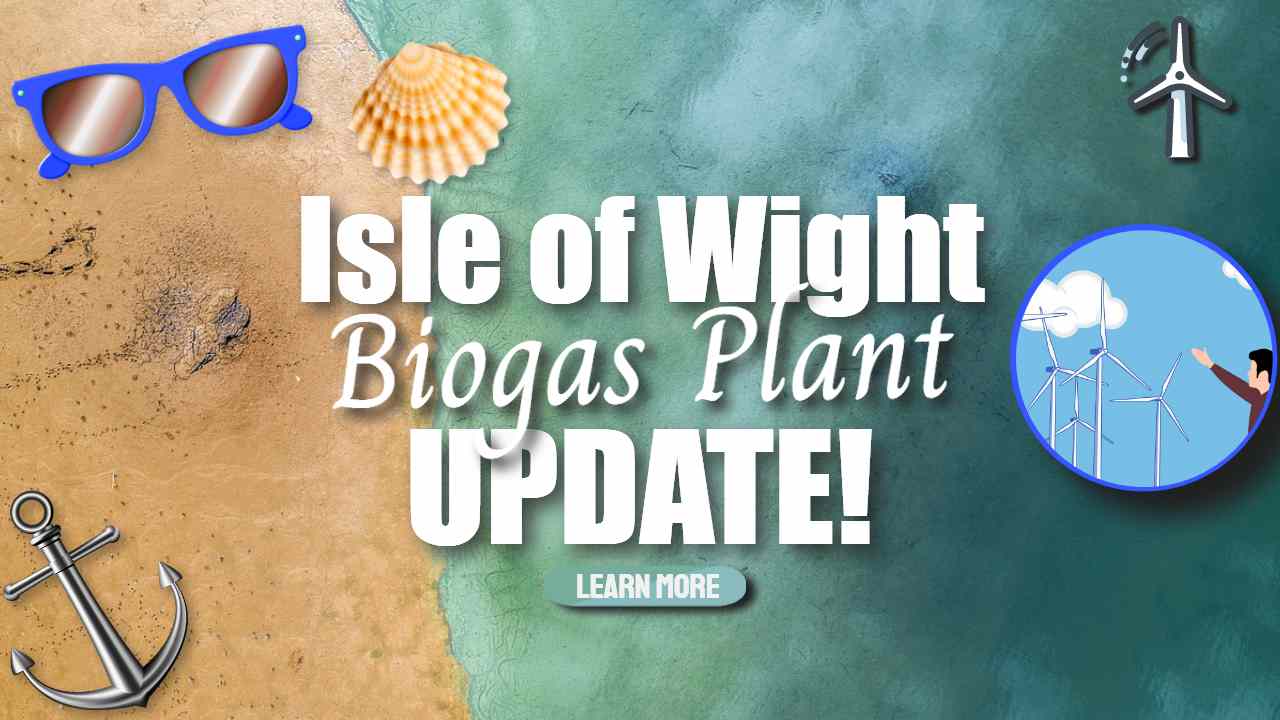 A biogas plant on the Isle of Wight will fuel a wind blade manufacturing factory
Vestas, a wind blade manufacturing facility, will get renewable electricity from Black Dog Biogas, the owner and operator of an anaerobic digestion (AD) plant in Newport on the Isle of Wight.
Black Dog Biogas uses AD to generate renewable energy by converting organic matter like maize and grass into biogas and biofertilizer. Black Dog generates renewable heat and electricity using biogas as a fuel in two combined heat and power units. The nutrient-dense biofertiliser is applied to arable farmland on the Isle of Wight, assisting in the growth of additional crops for the Black Dog facility while also supporting sustainable farming methods.
The project will provide low-carbon electricity to Vestas' 221.2 square-foot plant, which is headed by Black Dog Biogas and managed by Earth Capital. The plant employs over 600 people and produces 80-meter-long blades for offshore wind projects all over the world, including the United Kingdom.
Black Dog Biogas creates enough energy to power roughly 1,200 houses on the Isle of Wight, as well as around 80% of Vestas' demands.
---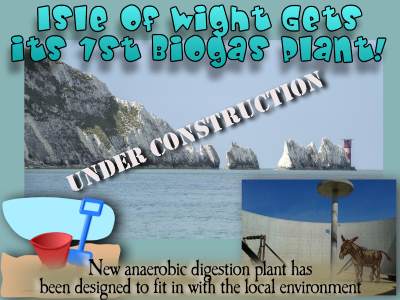 We found the following points made in the Wight Farm Energy Press Release reproduced here, as in our original article in January 2015, to be of particular interest:
The most formidable challenge that had to be overcome during the construction period was the long-delayed decision of the DECC (Department Of Energy and Climate Change) over the RHI (Renewable Heat Initiative) for AD and Gas to Grid injection.
The root cause of that delay would not have been the civil servants at DECC. It would have been due to the conflicting views held within the UK's coalition government (2010 to 2015), with many within the Conservative Party wanting to scrap or severely limit any government incentives like the RHI which supports the development of renewable energy.
We are informed that the new anaerobic digestion plant has been designed to fit in with the local environment. Now achieving that visually without incurring a lot of extra costs will have been quite difficult given the large tanks and gas holders needed for all biogas plants.
Wight Farm Energy and Schmack's, IoW Biogas Plant Construction Progress Report
PRESS RELEASE: 9 January 2015. London: The historic and picturesque holiday destination of the Isle of Wight (population 140,000) is set soon to benefit from its inaugural biogas plant. By spring 2015 the new facility promises to deliver England's largest island (just off the south coast) with the very best in renewable energy technology.
Schmack Biogas UK Ltd (part of the Viessmann Group), in partnership with Wight Farm Energy, is on course to complete the plant (at Gore Cross, Arreton, just west of the centre of the island). The facility is configured for an output of five megawatts of gas power, with a 250 kW combined heat and power unit to supply its own energy demand. In contrast to conventional AD plants, biogas produced at this first IoW Biogas Plant will be processed into biomethane, which has the same quality as natural gas.
This will enable it to be fed into the island's existing gas network. 4.25 million standard cubic metres of biomethane will be produced from renewable raw materials comprising mainly of maize silage, grass silage, whole crop silage and agricultural wastes.
The project helps some of the Isle of Wight's largest farm holdings to secure a future from unprofitable break crops, which are secondary crops grown to interrupt the repeated sowing of cereals as part of crop rotation.
Designed to fit in with the local environment by way of a cut and fill construction, the first IoW Biogas Plant will utilise its robust mixing technology, which enables the plant to be flexible in regard to the range of inputs. At the end of the fermentation and gas upgrading process, the IoW Biogas Plant produces biomethane for grid injection (to be used as energy and heat where needed), electricity for internal consumption – and also fertiliser as separated soil residue for farmland.
As well as its successes in Germany, Schmack's proven track record in sustainable AD plants also includes its installation at Stoke Bardolph, just outside Nottingham. Here, maize silage, sugar beet and whole plant silage are utilised for a 3 x 1063 kWel (Kilowatt Electric) system that generates electrical and thermal energy for the neighbouring sewage treatment plant operated by Severn Trent Water.
Schmack's robust experience in this renewable project technology field stretches back almost two decades. The company provides complete services in project development and plant construction, as well as servicing and operational management. The company also provides a comprehensive microbiological service.
Michael Groth, Head of Sales at Schmack Biogas, commented:
"There are some extra logistics involved with the Gore Cross project being on the Isle of Wight, but the most formidable challenge encountered during the construction period has been the very prolonged decision of the DECC (Department Of Energy and Climate Change) over the RHI (Renewable Heat Initiative) for AD and Gas to Grid injection. However, the project teams are now firmly underway and all pulling in the right direction to bring about this historic installation. We believe IT will demonstrate exemplary efficiencies that the Isle of Wight can be proud of. Wight Farm Energy is an association made up of seven landowners and a producer and trade group for cereals.They are an ideal partner for us with their active involvement and knowledge of the island and its agriculture".
He added:
"By upgrading the gas and feeding it into the natural gas grid, it is utilised where it can be done so most efficiently and effectively. It is also removes the dependency on fossil fuel by using renewable input materials and agricultural waste that would otherwise be going to landfill".
This latest installation by Schmack follows its contract to design and build a new 2000 Nm3/h processing plant just south of Stockholm. The development (in early 2015) will see the Swedish capital increase its proportion of biomethane by 50 per cent, utilising Schmack Carbotech's innovative Pressure Swing Adsorption (PSA) principle to help produce biofuel in vehicles powered by natural gas.
Viessmann Technology Used in AD Plant
The Viessmann Group is one of the world's largest heating system manufacturers. The family firm, which was founded in 1917, employs roughly 10,600 people and has a total yearly sales of 1.89 billion euros.
Viessmann is a global firm with 24 production divisions in 11 countries, subsidiaries and representations in 74 countries, and 120 sales offices across the world. Schmack Biogas is a renowned biogas plant manufacturer in Germany. Since January 2010, the company has been a part of the Viessmann Group, having been founded in 1995.
Under the names Schmack, BIOFerm, and Carbotech, it offers project development and plant construction, as well as servicing and operational management, making it one of the few complete service providers in the industry. The firm also offers a full microbiological service in addition to technical assistance. www.schmack-biogas.com