Gobar gas is also known as "Bio gas" or simply "biogas". Its main component is animal dung (gobar – India) along with some other organic matter like dead remains of plants and animals. It can be used to cooking, electricity generating and heating purposes.
It is proving to be a very cost-effective and environment-friendly alternative fuel for rural households.
It is a natural, and sustainable, organic gas manufactured in huge closed containers. And, in the light of the growing energy shortage that India faces, gobar gas is being cited as having great potential. It is also another eco-friendly energy source alongside wind energy and solar, but many people don't know about it. The "cow dung" (also buffalo dung etc) or "gobar" gas has a lot of energy within it, which can be stored for a biogas plant by the process of fermentation.
Despite the lack of public awareness of biogas in general, it can at least go part-way to provide the answer to the energy needs of rural areas. Furthermore, this gas can be produced from regionally available raw materials and recycled waste and is environmentally friendly and pretty much CO2 neutral.
Gobar Gas Production in More Detail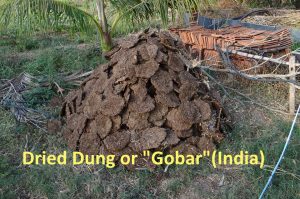 In a gobar gas plant, "gobar gas" is obtained by bacterial fermentation of animal refuse. To be a little more specific about the process which makes it. It is produced by the anaerobic digestion or fermentation of biodegradable materials such as manure, sewage, municipal waste, green waste, plant material, and crops. Gobar Gas is a renewable fuel (methane) so it qualifies for renewable energy subsidies in some parts of the world.
When gobar gas is cleaned up by a process called biogas upgrading. After upgrading, the purified biogas is ready to be used as fuel in a massive number of applications for motor car fuel, to running massive gas turbines. Any CNG converted internal combustion engine can be connected to an alternator to produce electricity. Hence, an easy off-grid electrical power supply which doesn't hasten climate change, becomes available to all nations rich and poor.
The heat generated during the combustion of bio gas, or "gobar gas" can be used for use in other processes that require significant heat.
Electricity generated by fuel cells using gobar gas can provide power at night.
This point about gobar gas can be again used in the discussion about replacement of other sources of electricity like hydro power, thermal power, and nuclear power with biogas energy plants. This gas supply source can equally be applied to counter-insurgency and stabilization programs with Afghanistan as an example.
---
The Advantages of Gobar Gas Digesters for India and Similar Nations
Population pressure has practically eliminated India's forests, causing desperate fuel shortages in most rural areas. As a result, up to three-quarters of the country's annual billion tons of manure (India has two cows for every person) is burned for cooking or heating. This creates enormous medical problems—the drying dung is a dangerous breeding place for flies and the acrid smoke is responsible for widespread eye disease—and deprives the country's soil of vital organic nutrients contained in the manure.
The Gobar (Hindi for "cow dung") Gas Research Station—established in 1960 as the latest of along series of Indian experimental projects dating back to the 1930's—has concentrated its efforts, as the name suggests, on generating methane gas from cow manure. At the station, Ram Bux Singh and his coworkers have designed and put into operation bio-gas plants ranging in output from 100 to 9,000 cubic feet of methane a day. They've installed heating coils, mechanical agitators and filters in some of the generators and experimented with different mixes of manure and vegetable wastes. Results of the project have been meticulously documented and recorded.
This comprehensive eleven-year-long research program has yielded designs for five standardized, basic gobar plants that operate efficiently under widely varying conditions with only minor modifications (see construction details of 100 cubic foot digester that accompany this article) .
Ram Bun Singh has compiled much of this information into two booklets, BIO-GAS PLANT and SOME EXPERIMENTS WITH BIO-GAS. via motherearthnews.com
Summary – The Benefits of Gas from Dung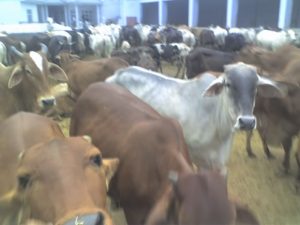 With the continuing development of science and technology it is considered that gobar gas will be one of the biggest fuel-providing resource, in the future. Indeed, introducing a community to a safer, greener, more eco-friendly energy option will make their lives happier, plus much more sustainable in the long run and protect the forests.
This "dung gas" is going through a revolution. It has already, for example, been a quiet engine of ground-level economic transformation in Nepal and numerous other poor Asian and African nations. There are millions of these plants in homes and communities in China as well.
Of course gobar gas has undoubtedly now already, come to stay.
Are you making the best use of it in your farm or rural community?